Vegan Protein - Pumpkin Spice Flavour
Plant-based protein powder with Pumpkin Spice flavour & pure, natural ingredients.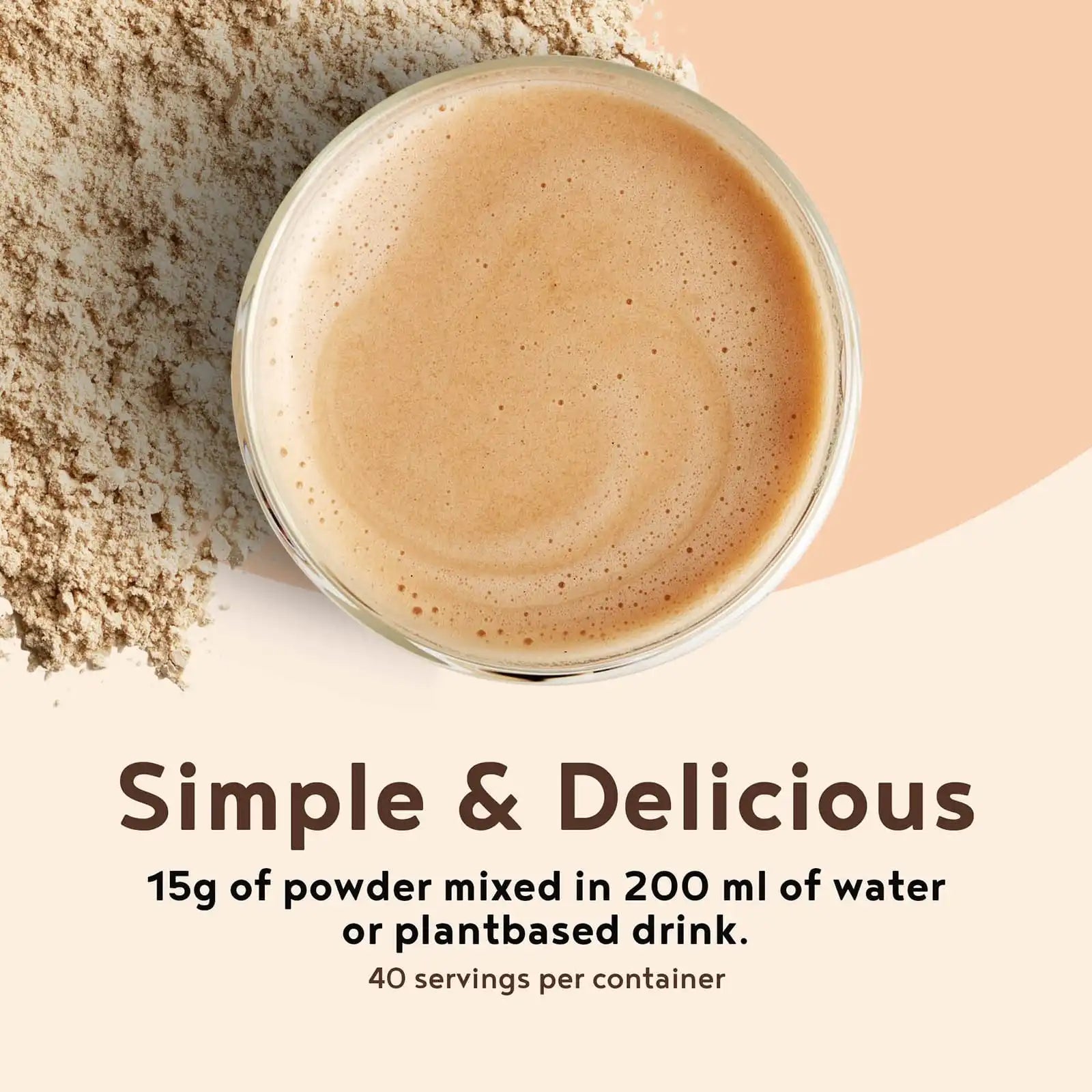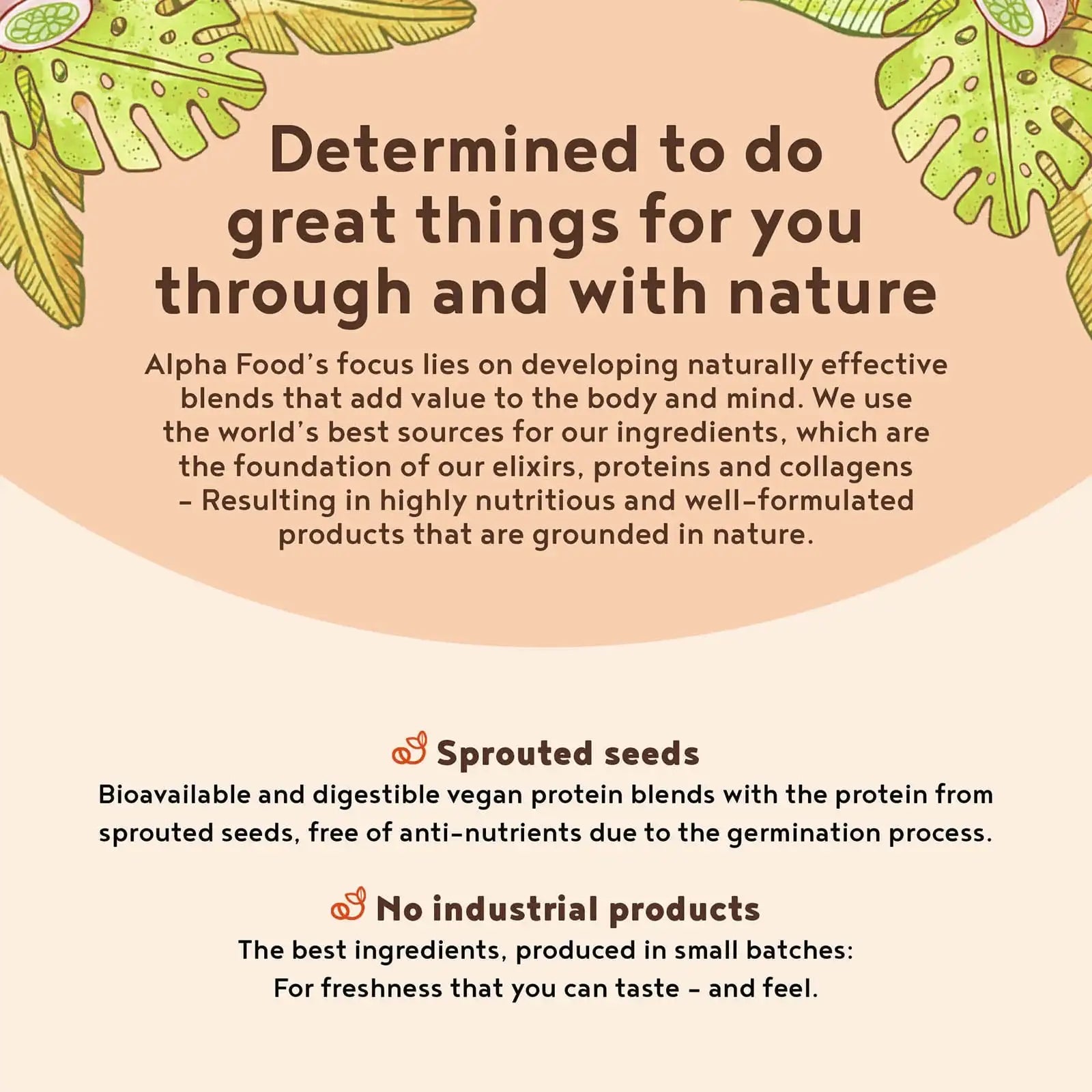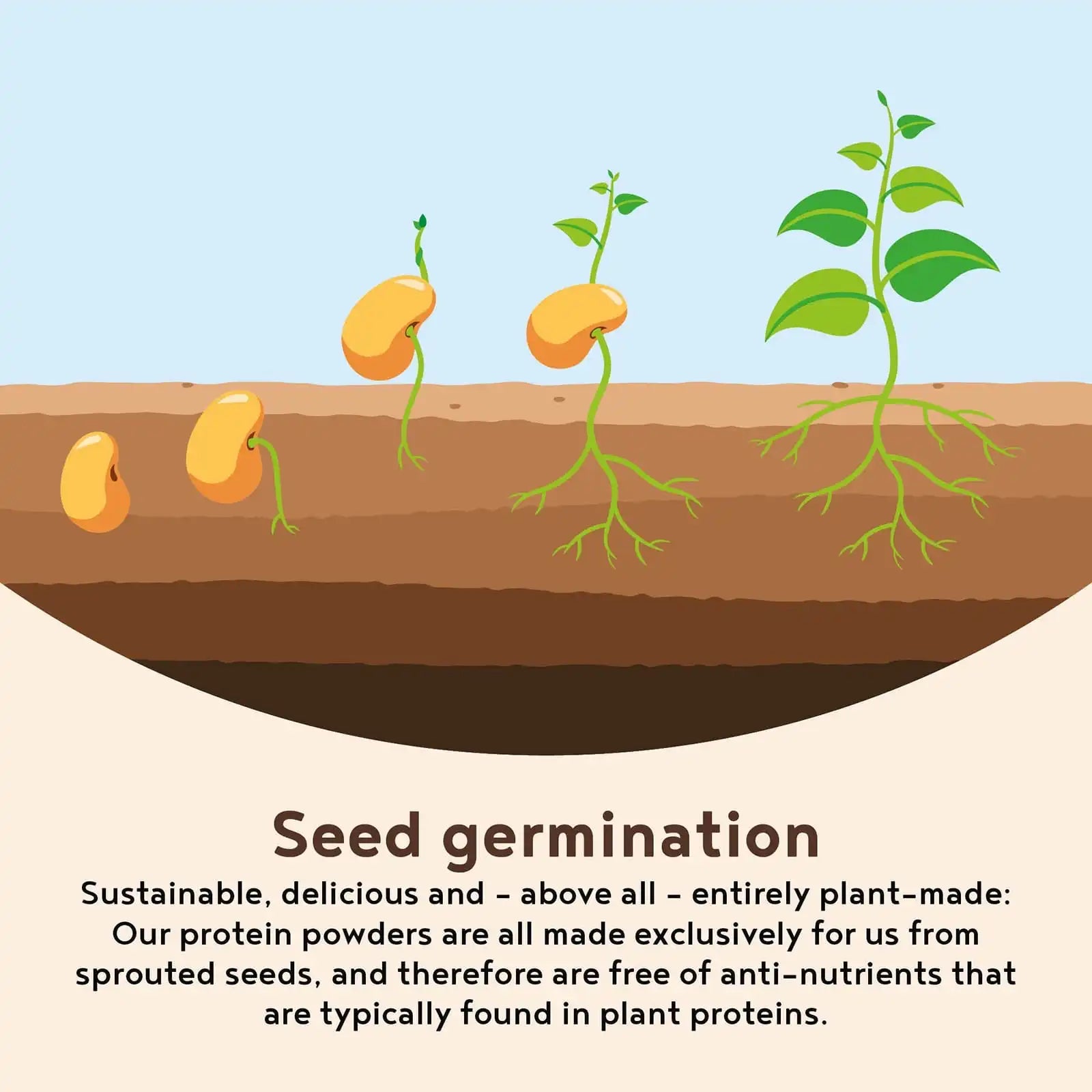 Gluten free
Soy free
Vegan
Plant based protein sources
Alpha Foods have always been based on pure plant-based protein sources from sprouted seeds and beans, which are naturally rich in nutrients but virtually free of typical anti-nutrients such as lectins or phytic acid.
Sprouted flax seed protein
Sprouted pumpkin seed protein
Natural flavour
Flavours that have always been formulated and composed by true masters of their craft provide a natural, rounded and unbeatably delicious taste experience for which Alpha Foods proteins are widely known.
Natural "Pumpkin Spice" aroma
Stevil glycosides from Stevia
Discover recipe ideas and background knowledge about

Vegan Protein - Pumpkin Spice Flavour
More information about this product
Preparation
Mix 1 heaped scoop (15g) with at least 200 ml of water or another liquid such as oat -, rice - or almonddrink. We recommend using a protein shaker to make it quick, easy and creamy.
Ingredients
Show ingredients +
Pea protein powder, Rice protein concentrate, Flax seed protein powder, Sunflower seed protein powder, Pumpkin seed protein powder, Amaranth protein powder, natural flavour, Lupin protein powder, Beta-carotene (from sweet potato extract), Bromelain (enzyme from pineapple), Ceylon cinnamon powder, Guar gum, Sweetener : Sucralose and Steviol glycosides
Nutritional information
40 portions per container
Serving Size
1 Scoop (15 g)
of which Saturated Fat
0.4 g
Isoleucine 354 mg
Leucine 757 mg
Valine 447 mg
Lysine 535 mg
Methionine 140 mg
Histidine 263 mg
Phenylalanine 404 mg
Threonine 289 mg
Tryptophan 149 mg
Alanine 367 mg
Arginine 706 mg
Aspartic Acid 1,026 mg
Cysteine 263 mg
Glutamic Acid 1,679 mg
Glycine 355 mg
Proline 438 mg
Serine 466 mg
Tyrosine 679 mg
FAQ
Questions & answers
FAQ
Questions & answers
How do I use Vegan Protein?
+
-
Vegan Protein can be easily prepared in a shake with water or any plant milk. It's designed to help you meet your daily protein needs with high quality plant-based protein. Vegan Protein is also great as an ingredient in recipes such as breakfast bowls, protein pancakes or in baking recipes to add extra protein - and delicious, low calorie flavour. This protein powder is not only heat resistant, but also contains premium coconut milk, which gives it a special creaminess.
Who is Vegan Protein suitable for?
+
-
Vegan Protein is suitable for anyone who wants to supplement their daily protein intake with high quality plant protein. It is recommended for everyone with a conscious lifestyle as well as for athletes for muscle regeneration - as protein is important for the maintenance and growth of our muscles*. You don't have to eat a vegan or plant-based diet to benefit from Vegan Protein. By choosing Vegan Protein, you are adding powerful plant-based nutrients to your body in a simple and delicious way. It is a good alternative to whey protein. *Protein contributes to the growth of muscle mass.
What distinguishes Alpha Foods from other vegan protein powders?
+
-
Alpha Foods Vegan Protein contains high-quality protein from a combined blend of germinated seeds and pulses. It is therefore also called a multi-component protein, as it contains a broad spectrum of essential amino acids. Vegan Protein thus has an advantage over other plant-based protein powders that consist of only one or two protein sources. Before they are processed, the seeds and pulses are germinated. This natural germination process is time-consuming - but this point also distinguishes our powder from many others: The anti-nutrients that occur naturally in many plants are split by the germination process and reduced to a minimum. In all our protein powders we use natural raw ingredients and sugar-free sweetening. Alpha Foods are created to add value for people and the planet - and we ourselves want to be able to enjoy them with the best conscience.
How do you create that irresistible taste?
+
-
The flavour in our Vegan Protein comes from authentic raw ingredients, of which the aroma is extracted to keep its authenticity. This creates a natural taste that has been refined to perfection through a long series of tasting tests. We sweeten using exclusively calorie free ingredients. For a nutritionally conscious, delightful experience without compromising on taste.
Are there any safety instructions?
+
-
Food supplements are not a substitute for a balanced and varied diet. Please always store in a dry, cool place, away from light and out of the reach of children. Do not exceed the recommended daily intake.
Do you have more questions?
Exchange ideas with the Alpha Foods community
Facebook Group
Try risk-free
Plant-based protein powder with Pumpkin Spice flavour & pure, natural ingredients.
Add to cart
Every order comes with our 100% satisfaction guarantee
You either love your Alpha Foods or we offer a full refund.
What fits together?
These Alpha Foods might also be interesting for you: