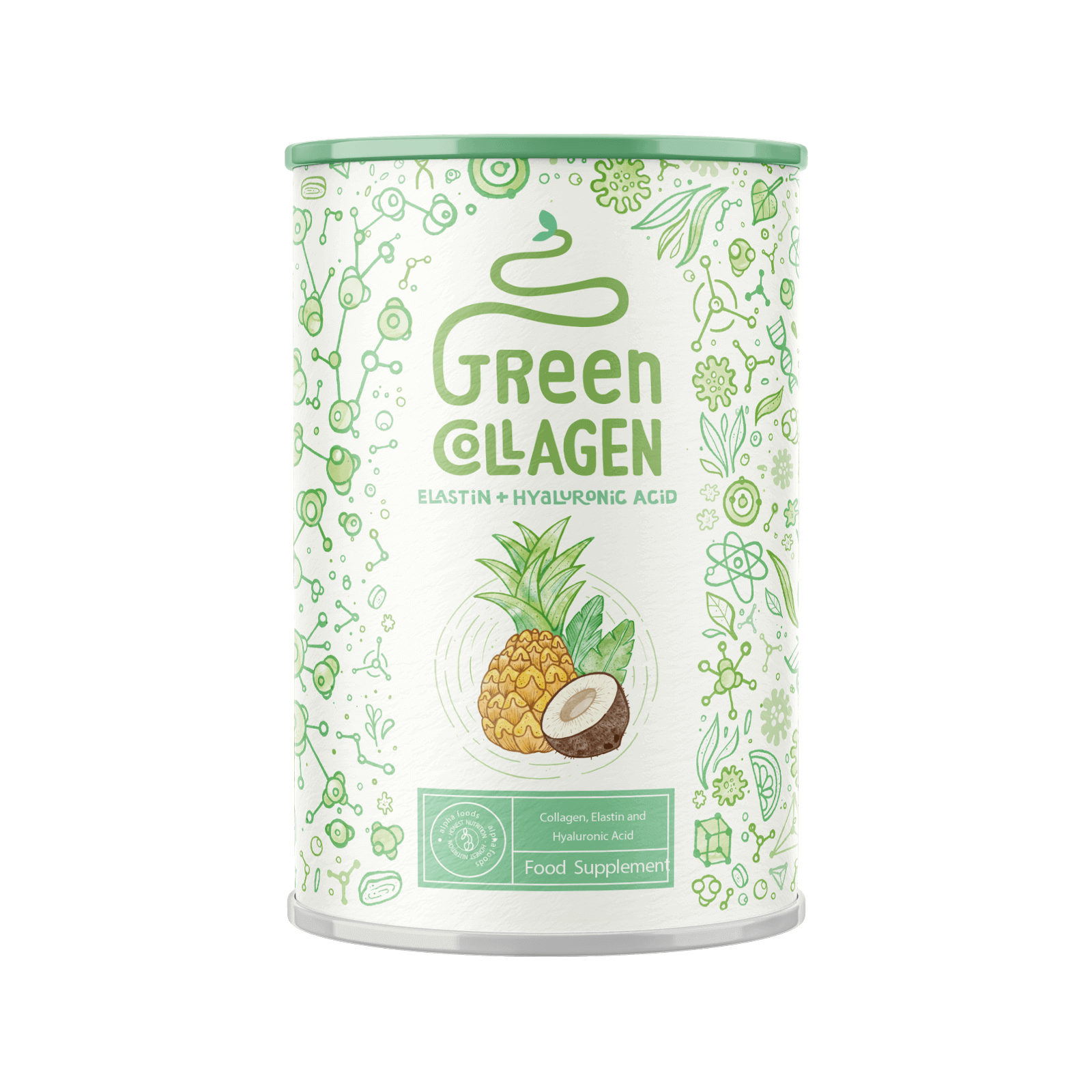 Fruity collagen with the Alpha Nutrient Complex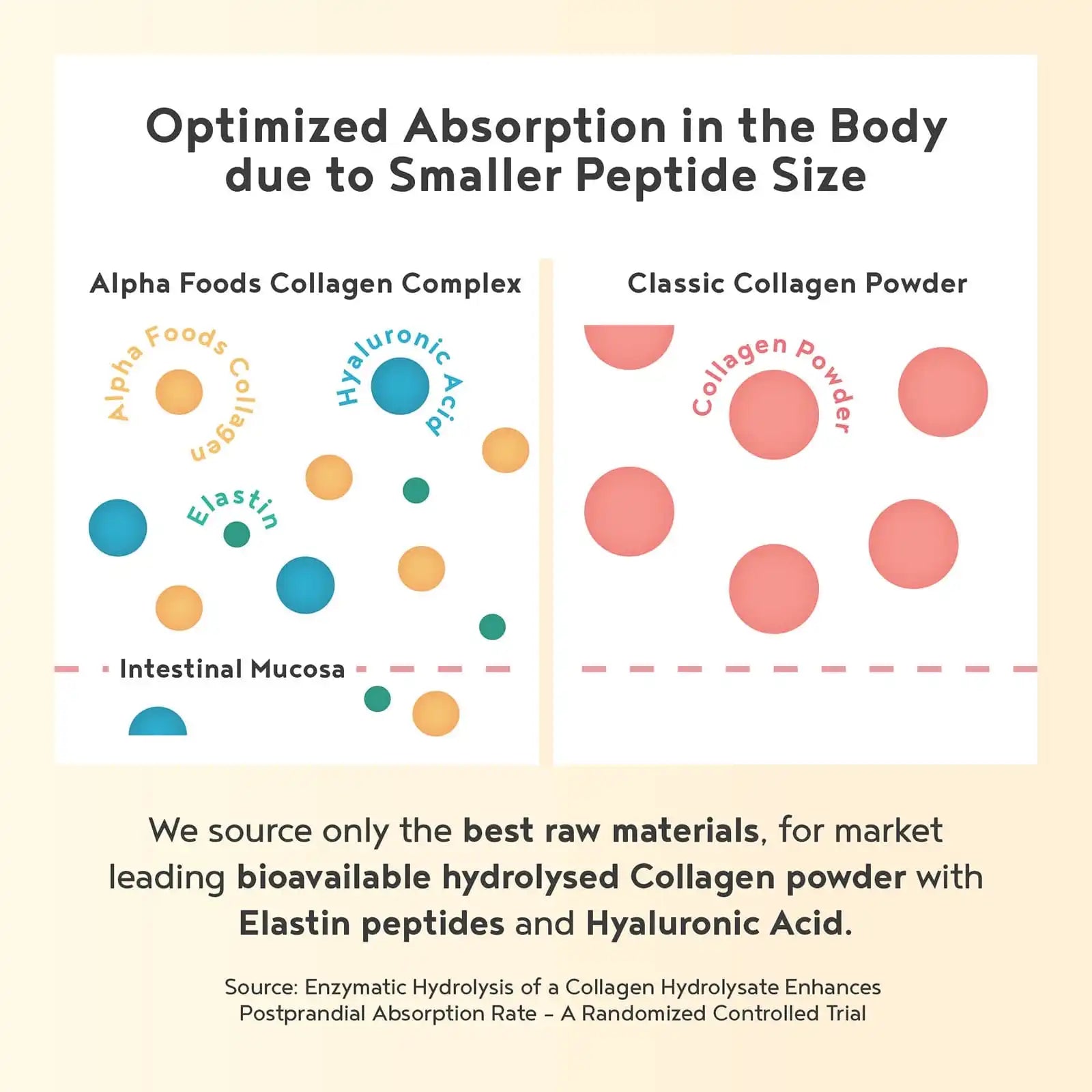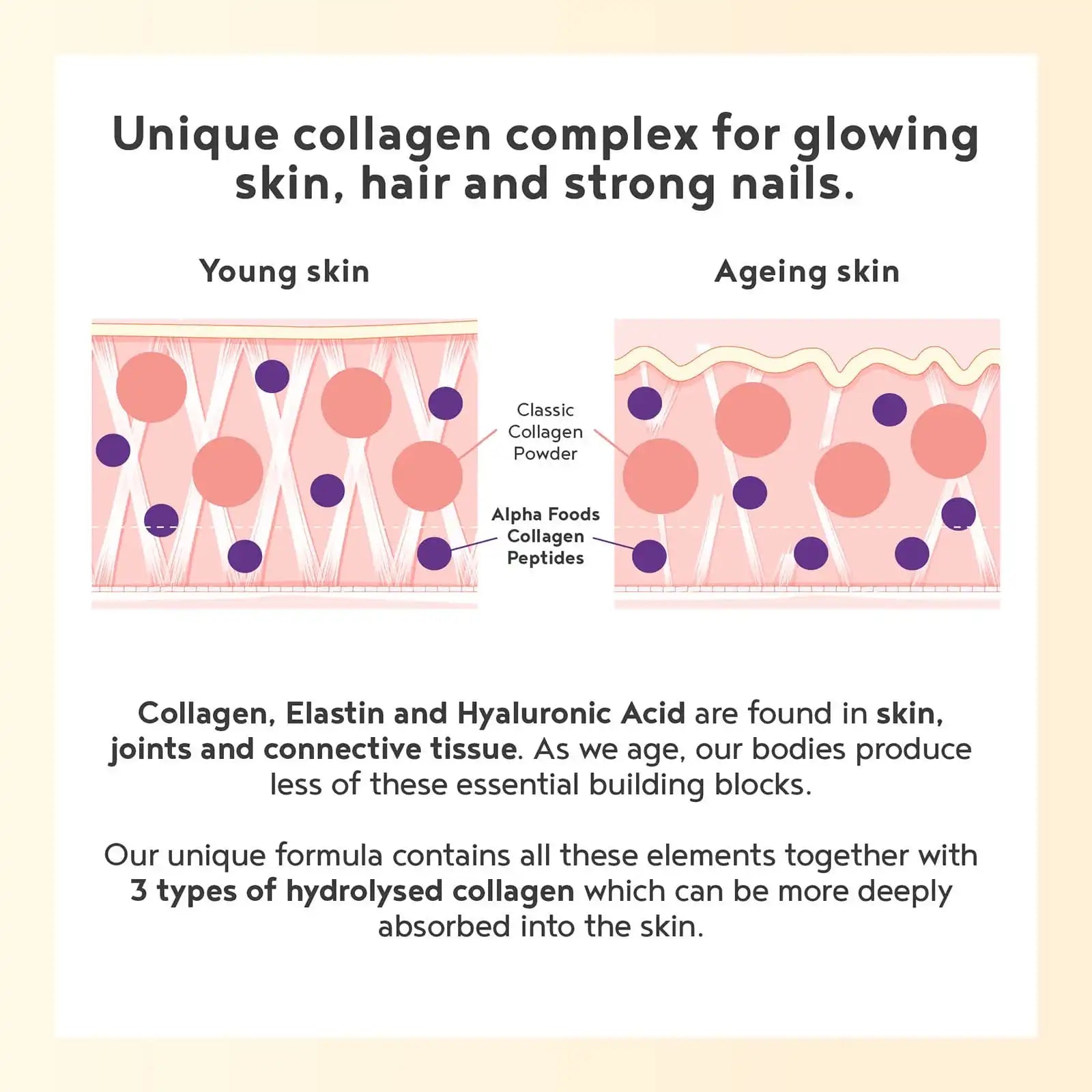 Gluten free
Soy free
Unsweetened
Nutritional sources
Juices of green raw ingredients that are rich in chlorophyll, vitamins, minerals, trace elements and countless secondary nutrients. Just like plants of the earth are rich in nutrients and active substances, so are plants plants of the seas that are usually only found in algae and have been a conscious part of healthy nutrition for thousands of years, especially in Asia.
Wheatgrass & Barleygrass Juice
Structural proteins
Collagen and elastin are essential structural proteins: collagen therefore helps to give the skin firmness and foundation, while elastin helps to give the skin suppleness and elasticity. Collagen thus helps to give the skin firmness and foundation, while elastin helps to give the skin suppleness and elasticity. Supplemented with low molecular weight hyaluronic acid (200 kDa) to bind moisture in all skin layers.
Hyaluronic acid (200 kDa)
Summery taste
Flavours that have always been formulated and composed by true masters of their craft provide a natural, rounded and unbeatably delicious taste experience for which Alpha Foods proteins are widely known.
More information about this product
Preparation
Mix one scoop (15g powder) with 200ml water once a day.
Ingredients
Show ingredients +
Hydrolysed bovine collagen (8,1 g collagen), Elastinhydrolysat (fish) (2 g elastin), sweetener (xylitol), wheatgrass juice powder (Triticum aestivum L.) (900 mg), natural flavouring, moringa oleifera leaf powder (Moringa oleifera Lam.) (700 mg), spirulina powder (Arthrospira platensis Gomont, sulphites) (600 mg), Sodium hyaluronate (500 mg hyaluronic acid), barley grass juice powder (Hordeum vulgare L.) (500 mg), spinach leaf juice powder (Spinacia oleracea L.) (300 mg), lemon fruit juice powder, apple fruit juice powder, amla fruit extract (Phyllanthus emblica L.) (300 mg), bamboo shoots extract, Coconut water powder, chlorella powder (Chlorella vulgaris Beijerinc, sulphites) (200 mg), silver ear fungus fruit body powder (Tremella fuciformis Berk.) (150mg), sweetener (steviol glycosides), Lacticaseibacillus rhamnosus- DSM 21981 (0,75 Billion CFU), Lactiplantibacillus plantarum- DSM 25710 (microencapsulated) (0,75 Billion CFU), Bifidobacterium longum- DSM 16603 (microencapsulated) (0,75 Billion CFU), Lactobacillus acidophilus- DSM 21717 (microencapsulated) (0,75 Billion CFU), Streptococcus thermophilus- DSM 17843 (microencapsulated) (0,75 Billion CFU). CFU: Colony-Forming Units
Nutritional information
20 portions per container
Serving size
1 scoop (15g)
of which saturated fatty acids
< 0,1 g
Collagen 8,1 g
Elastin 2 g
FAQ
Questions & answers
FAQ
Questions & answers
What makes Green Collagen different from your regular collagen powder?
+
-
Green Collagen is based on the highly effective and synergic triad of collagen hydrolysate, elastin and low-molecular hyaluronic acid (approx. 200 kDA). In addition, Green Collagen not only shines with its naturally fresh taste of pineapple and coconut, it has also been supplemented with the green nutrient boosters you know from our elixirs - such as spirulina, wheat and barley grass and spinach juice. Together, they create an effective collagen elixir that tastes delicious and is easy to integrate into everyday life.
What does the Green Collagen taste like?
+
-
Green Collagen has a naturally fruity taste of pineapple and coconut. Some would say it tastes like a healthy piña colada shake.
How do I use the Green Collagen?
+
-
We recommend one portion daily. The time of day does not matter. The powder can simply be mixed with water, or alternatively combined with all kinds of other Alpha Foods. A particularly popular combination is the mix of Green Collagen and Beach Body Tonic from our Vegan Muscle range.
How much collagen, elastin and hyaluronic acid are contained per portion?
+
-
Each portion (that is 15g of powder) contains approx. 8g of collagen peptides, approx. 2g of elastin peptides and approx. 500mg of hyaluronic acid.
Are there any safety instructions?
+
-
Food supplement with collagen, elastin and hyaluronic acid.
With sweetener. Raspberry Flavour. Caution : Food supplements should not be used as a substitute for a varied and balanced diet and healthy lifestyle. Do not exceed the stated recommended daily dose. Store in a cool, dry & dark place and out of reach of young children. Once opened, use within 8 weeks. Each box contains 30 portions.

400g ℮
Do you have more questions?
Exchange ideas with the Alpha Foods community
Facebook Group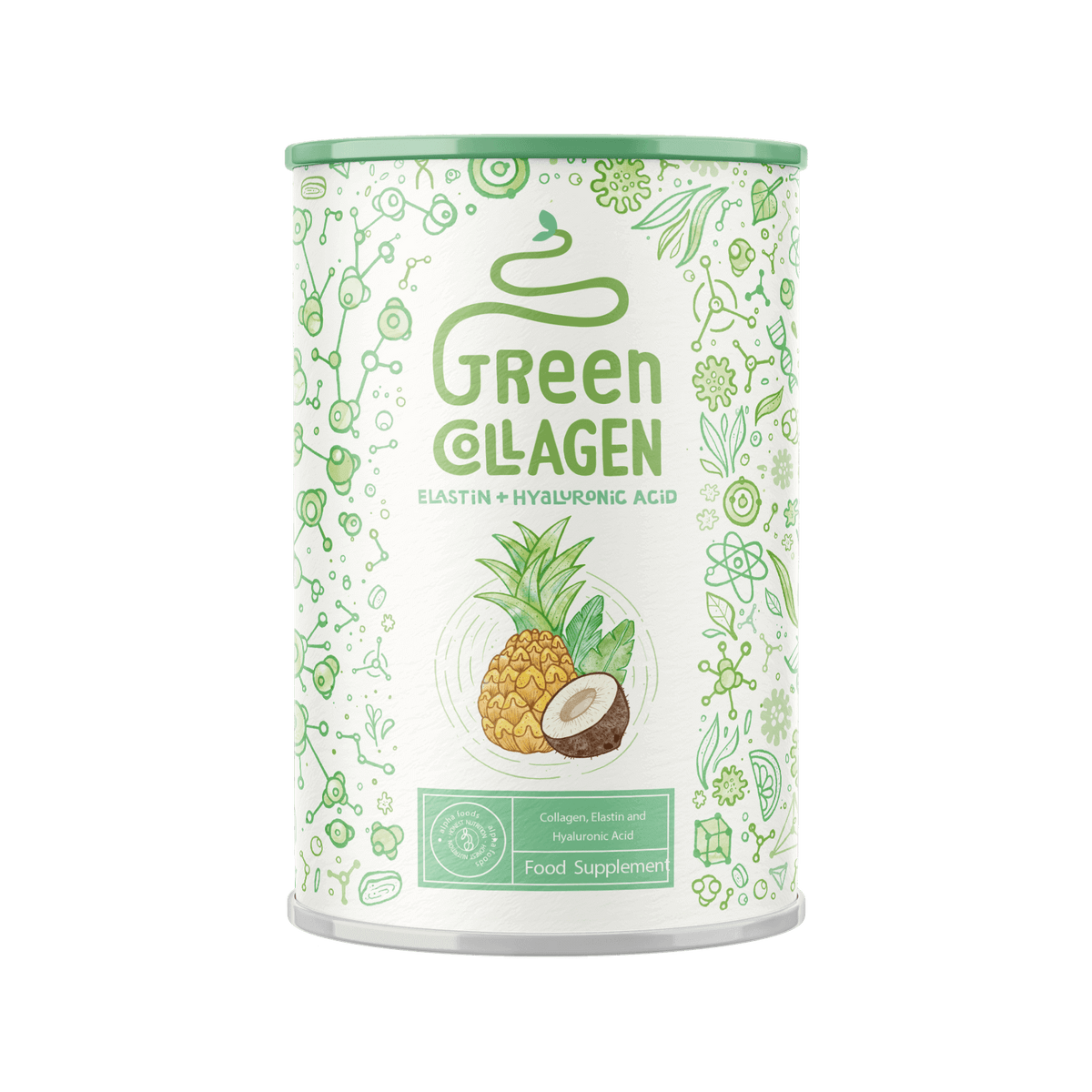 Try risk-free
Fruity collagen with the Alpha Nutrient Complex
Add to cart
Every order comes with our 100% satisfaction guarantee
You either love your Alpha Foods or we offer a full refund.
What fits together?
These Alpha Foods might also be interesting for you: