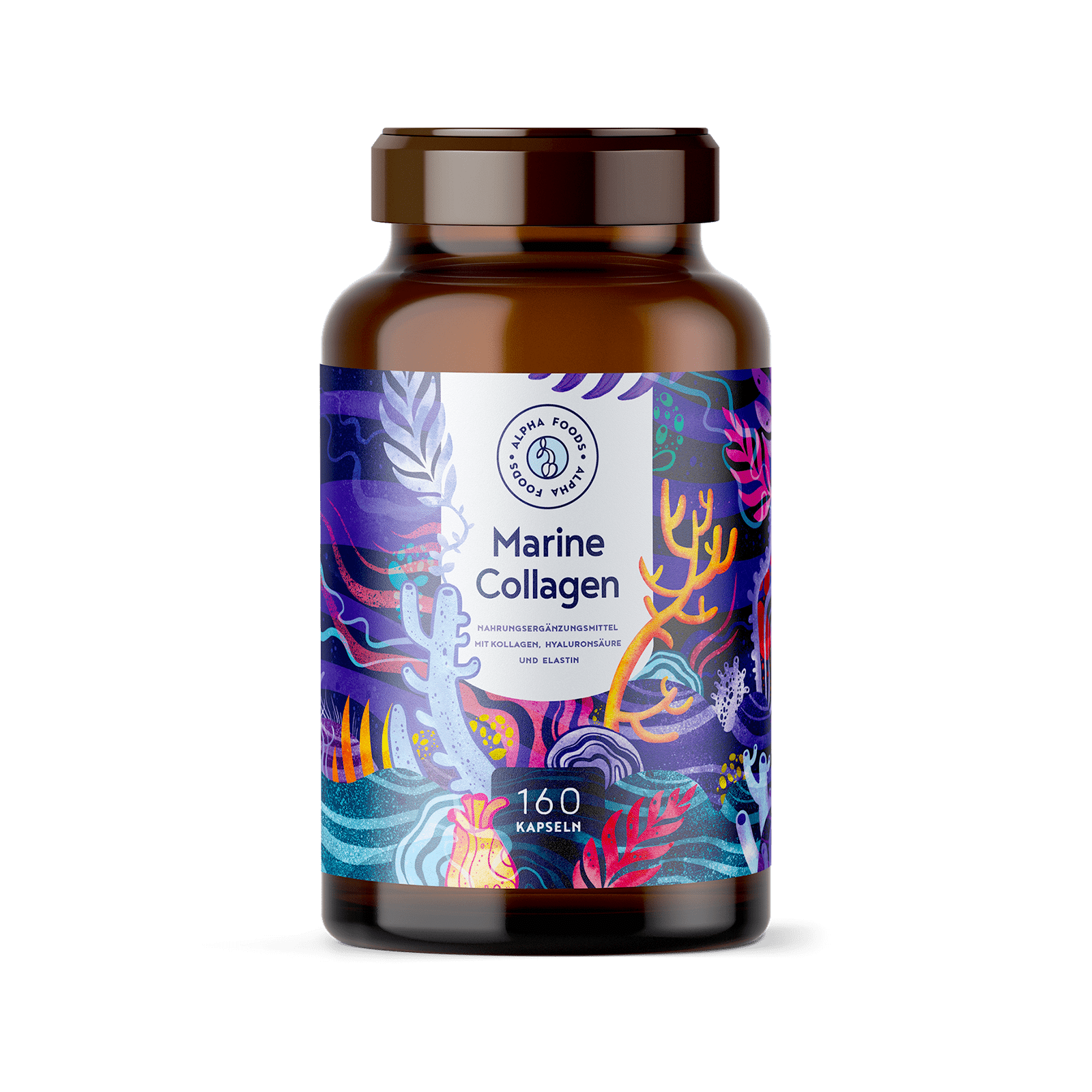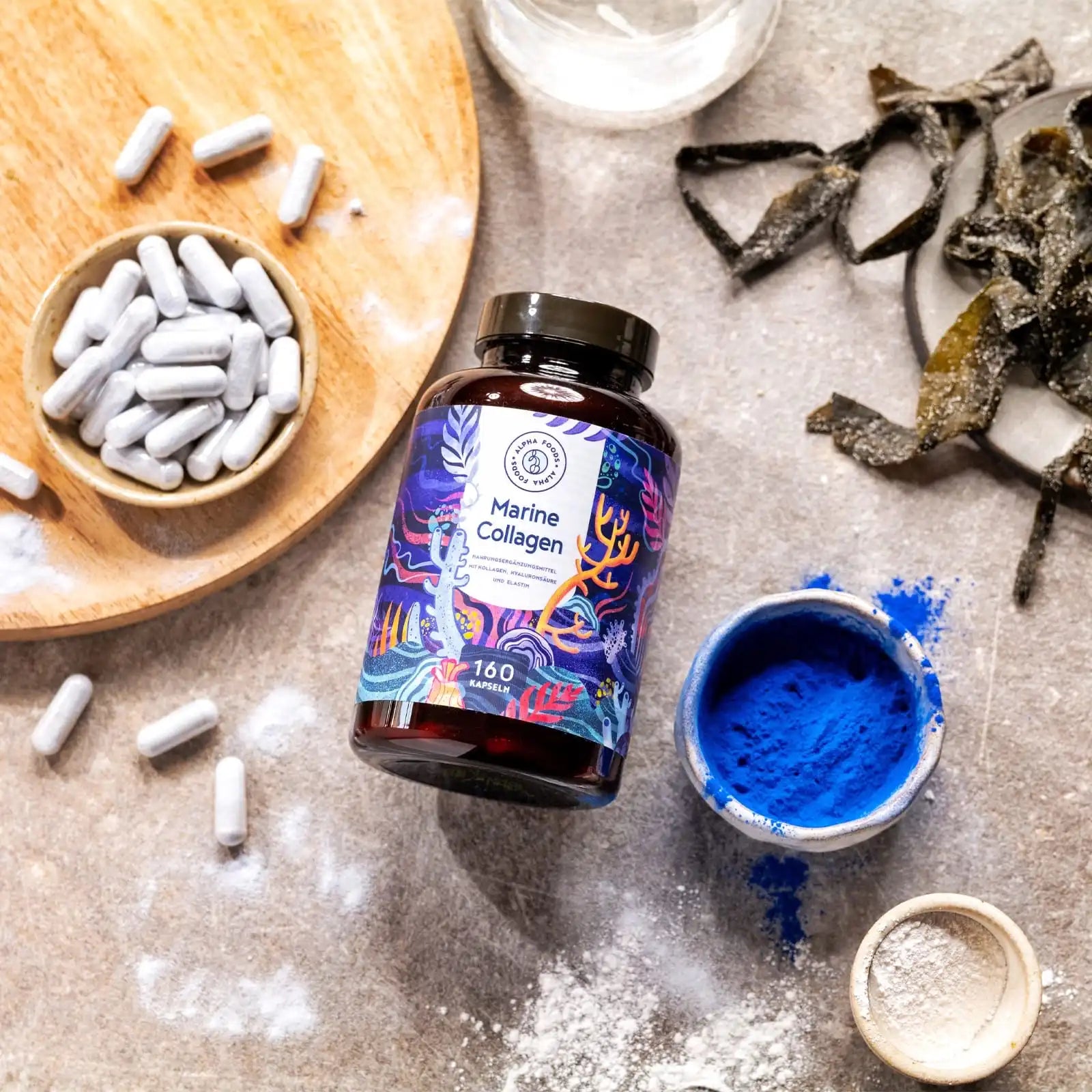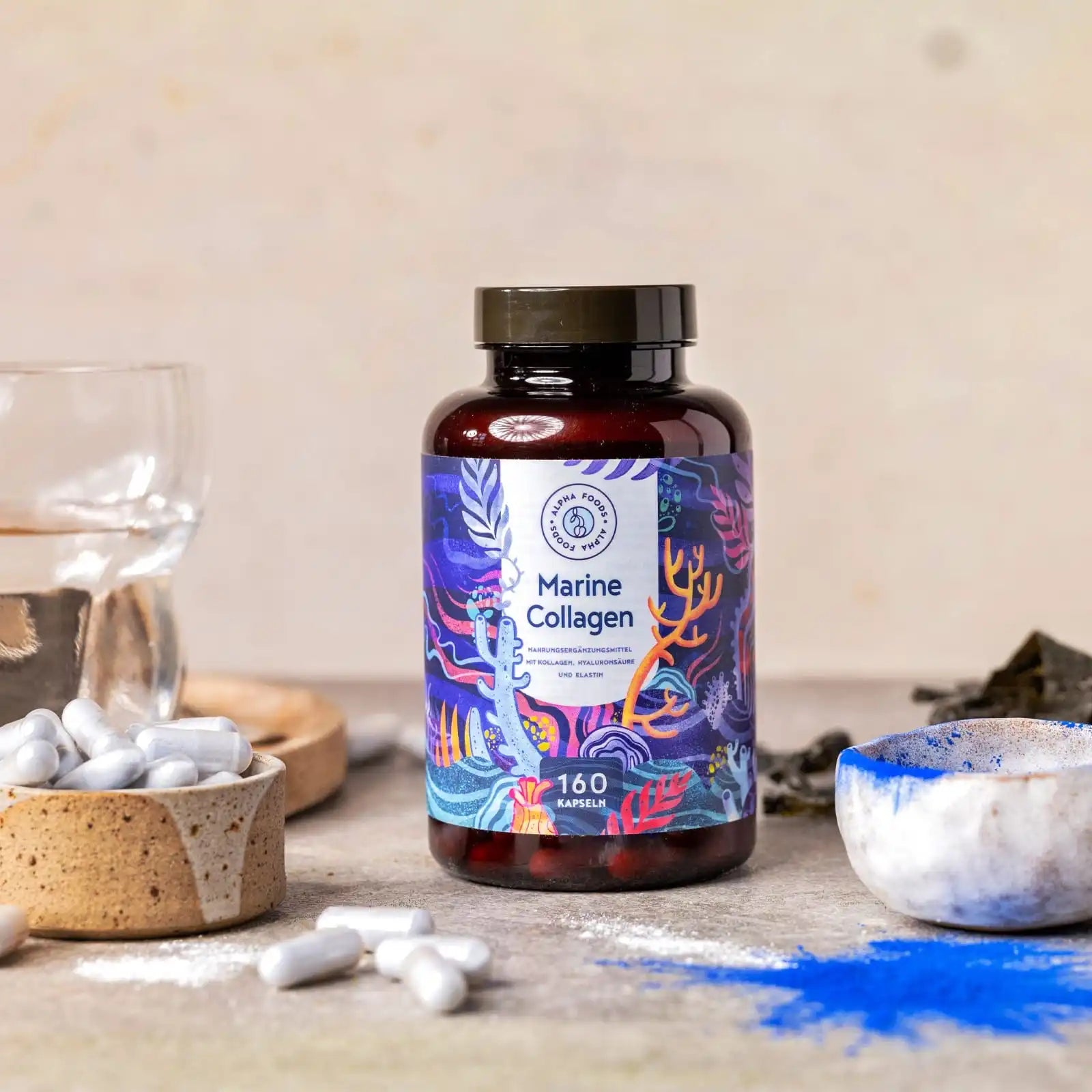 Food supplement with marine collagen, hyaluronic acid, blue spirulina and marine elastin.
Gluten free
Soy free
Unsweetened
Active ingredients
Collagen and elastin are essential structural proteins: collagen promotes the maintenance of skin firmness and helps to give firmness and foundation, while elastin helps to give suppleness and elasticity to the skin. Supplemented with low molecular weight hyaluronic acid (200 kDa).
More information about this product
Preparation
Take one to a maximum of five capsules per day with a full glass of water.
Ingredients
Show ingredients +
Collagen hydrolysate (FISH), plant-based capsule shell (coating agent: hydroxypropylmethylcellulose), Sodium hyaluronate, blue spirulina powder (SULFITES), Elastinhydrolysat (FISH).
Suitable for pescetarians.
Nutritional information
160 capsules per container
FAQ
Questions & answers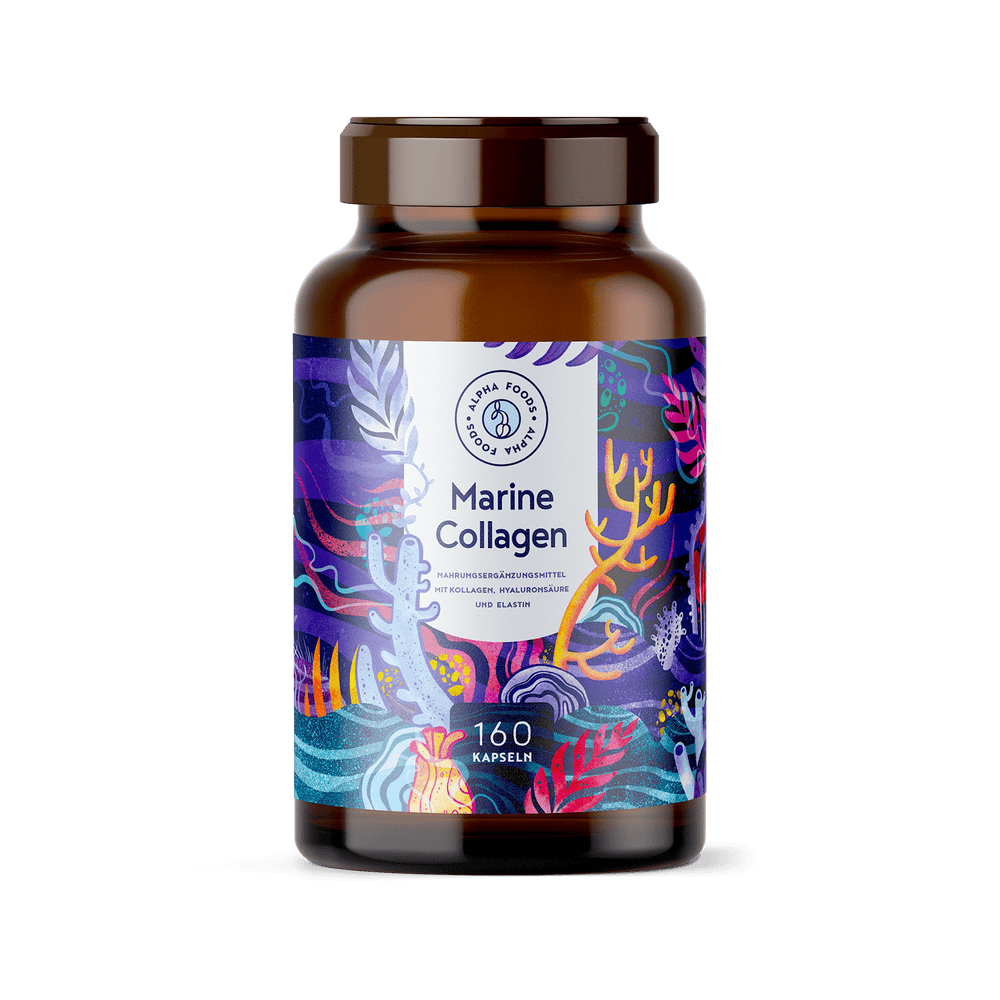 FAQ
Questions & answers
What is the difference between Marine Collagen and Alpha Foods Collagen powders?
+
-
There are two very important differences: All other Alpha Foods collagens always come in powder form whereas the Marine Collagen was encapsulated. This makes it especially interesting and useful for people who have problems with taking and using powders. On the other hand, other Alpha Foods collagens are based on either raw ingredients from pasture-raised cattle or plant-based alternatives to collagen building blocks. Marine Collagen is based on fish-based marine raw ingredients, which makes it useful for pescetarians.
Is this type of collagen vegan or plant-based?
+
-
"No, although Marine Collagen consists of vegan hyaluronic acid it also contains a mixture of marine (elastin and collagen) ingredients which are obtained from fish. However, unlike conventional collagen preparations, Marine Collagen does not contain raw ingredients from cattle and/or pork.
What type of hyaluronic acid is used?
+
-
We use relatively low molecular hyaluronic acid of about 200 kDa in Marine Collagen. Even lower values would increase bioavailability, but may trigger undesirable side effects. Higher-molecular hyaluronic acid, on the other hand, cannot be utilized orally and should - although this is not always the case - primarily be used in cosmetics.
Are there any safety instructions?
+
-
Food supplements do not serve as a substitute for a balanced and varied diet and healthy lifestyle. Do not exceed the specified recommended daily intake. Keep out of reach of small children.
93g ℮
Do you have more questions?
Exchange ideas with the Alpha Foods community
Facebook Group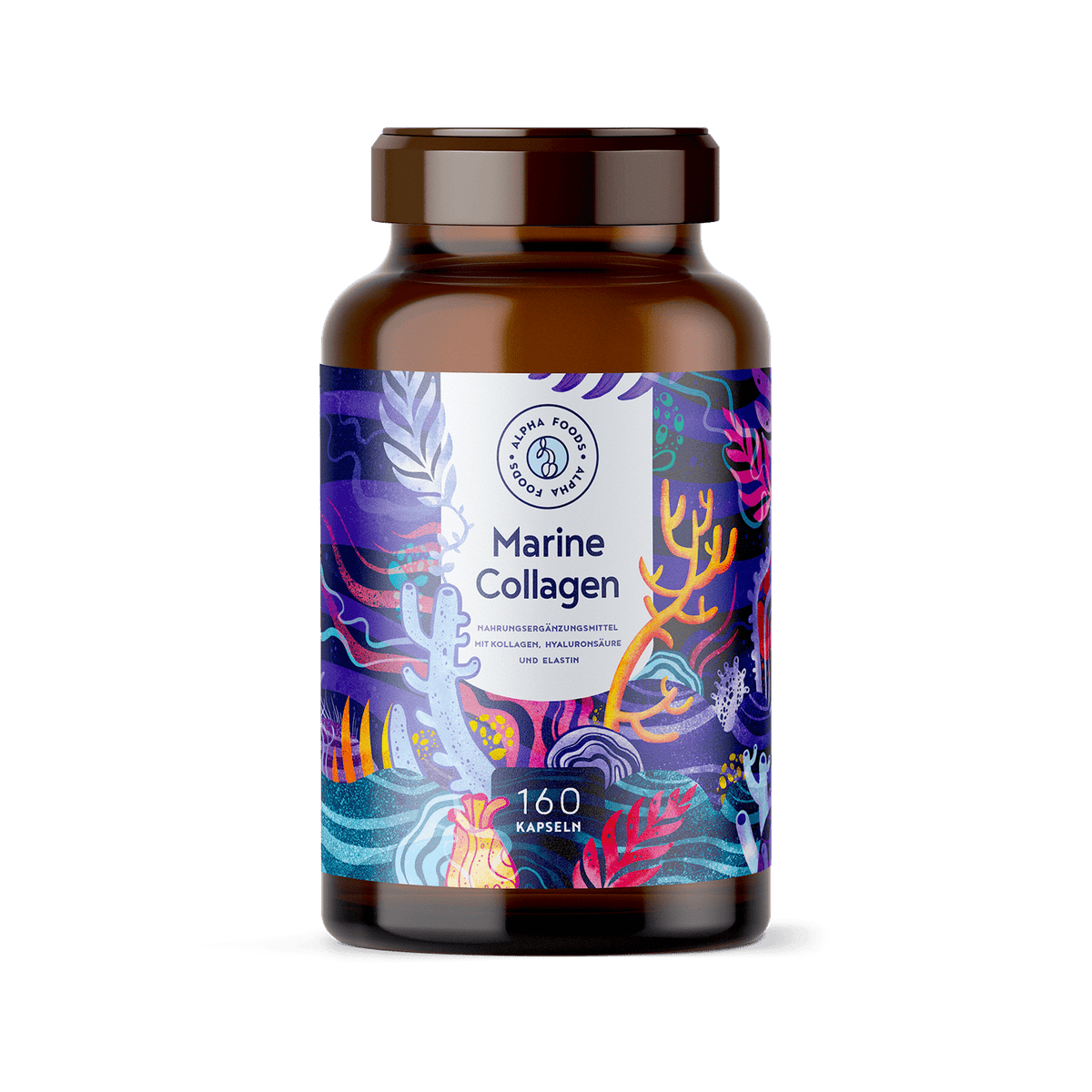 Try risk-free
Food supplement with marine collagen, hyaluronic acid, blue spirulina and marine elastin.
Add to cart
Every order comes with our 100% satisfaction guarantee
You either love your Alpha Foods or we offer a full refund.
What fits together?
These Alpha Foods might also be interesting for you: