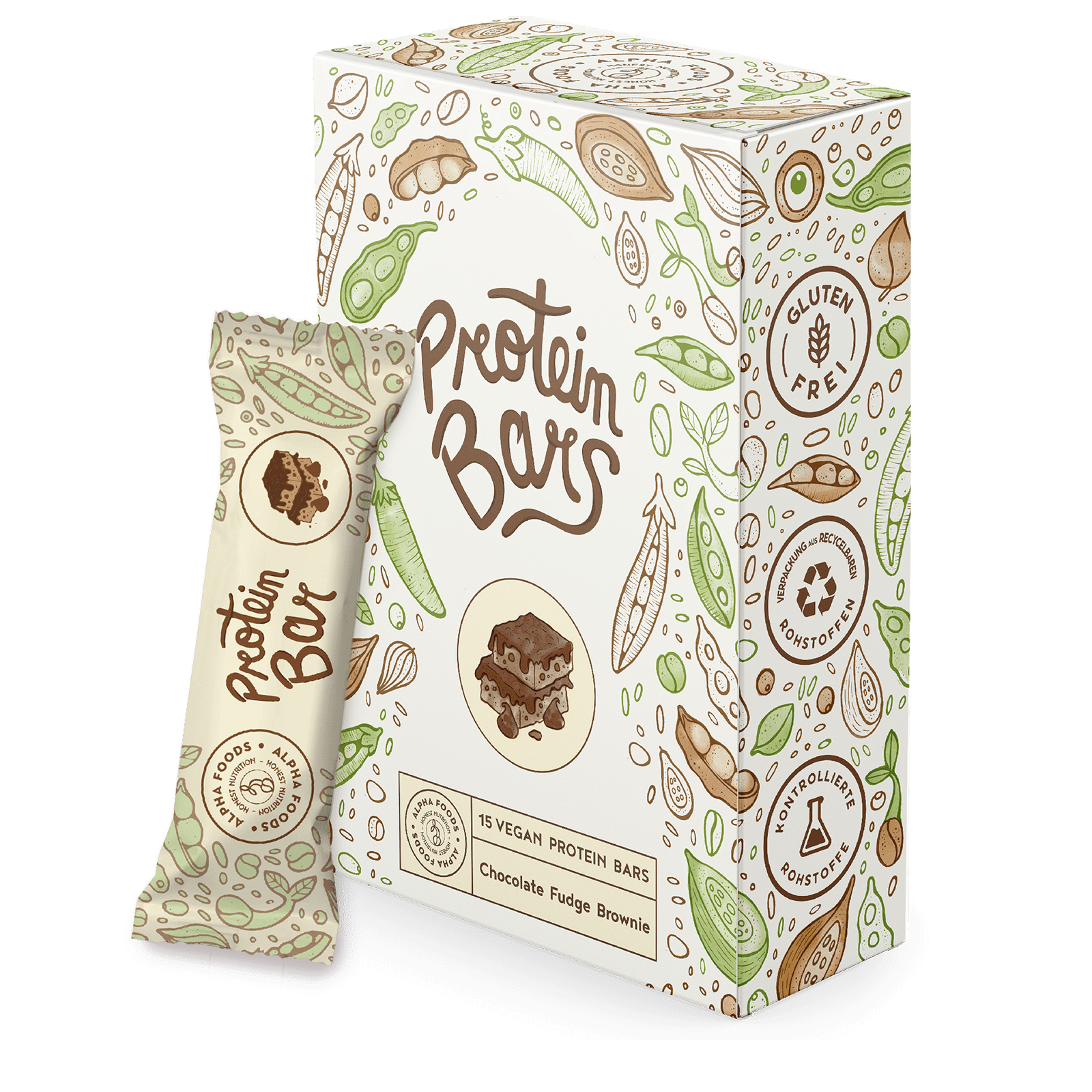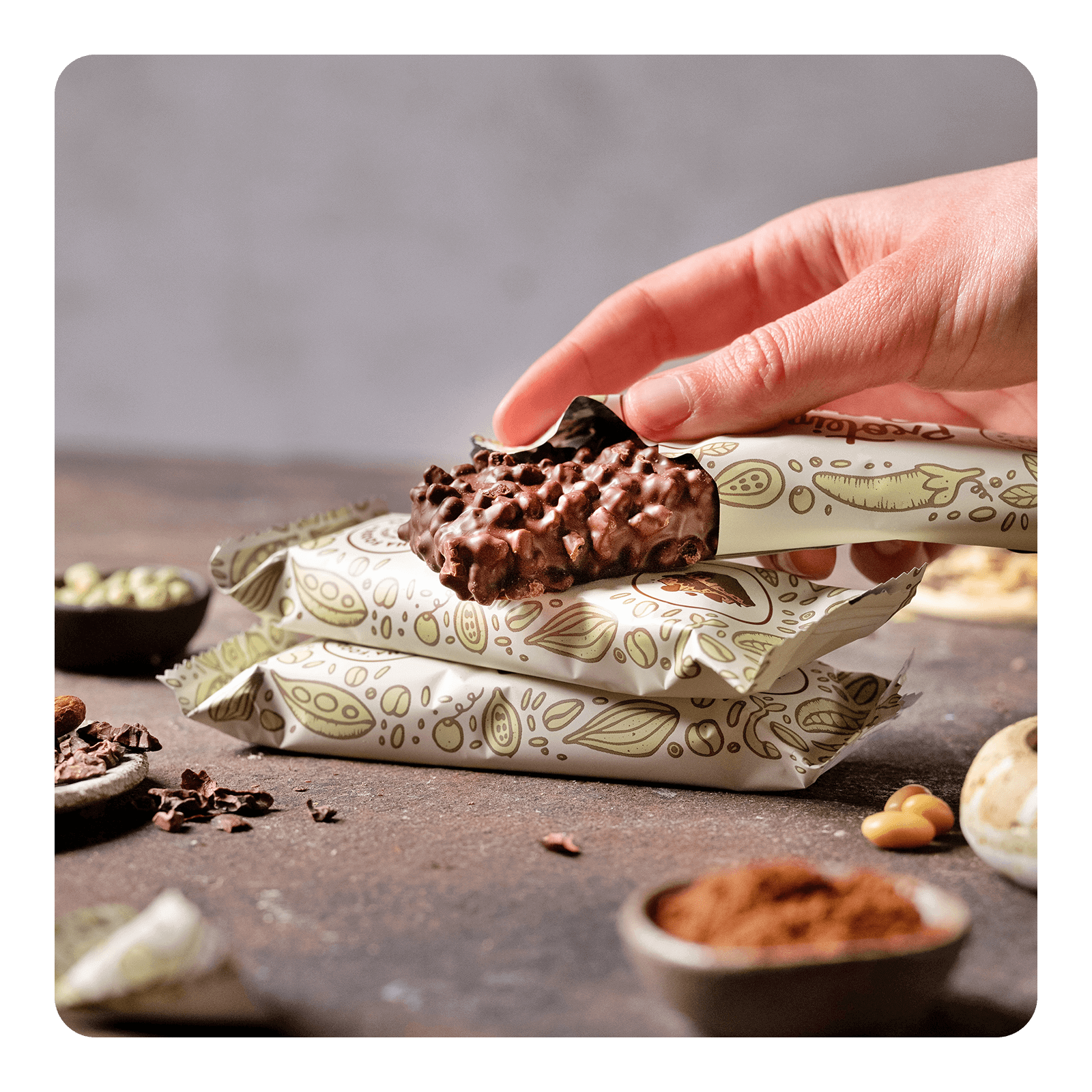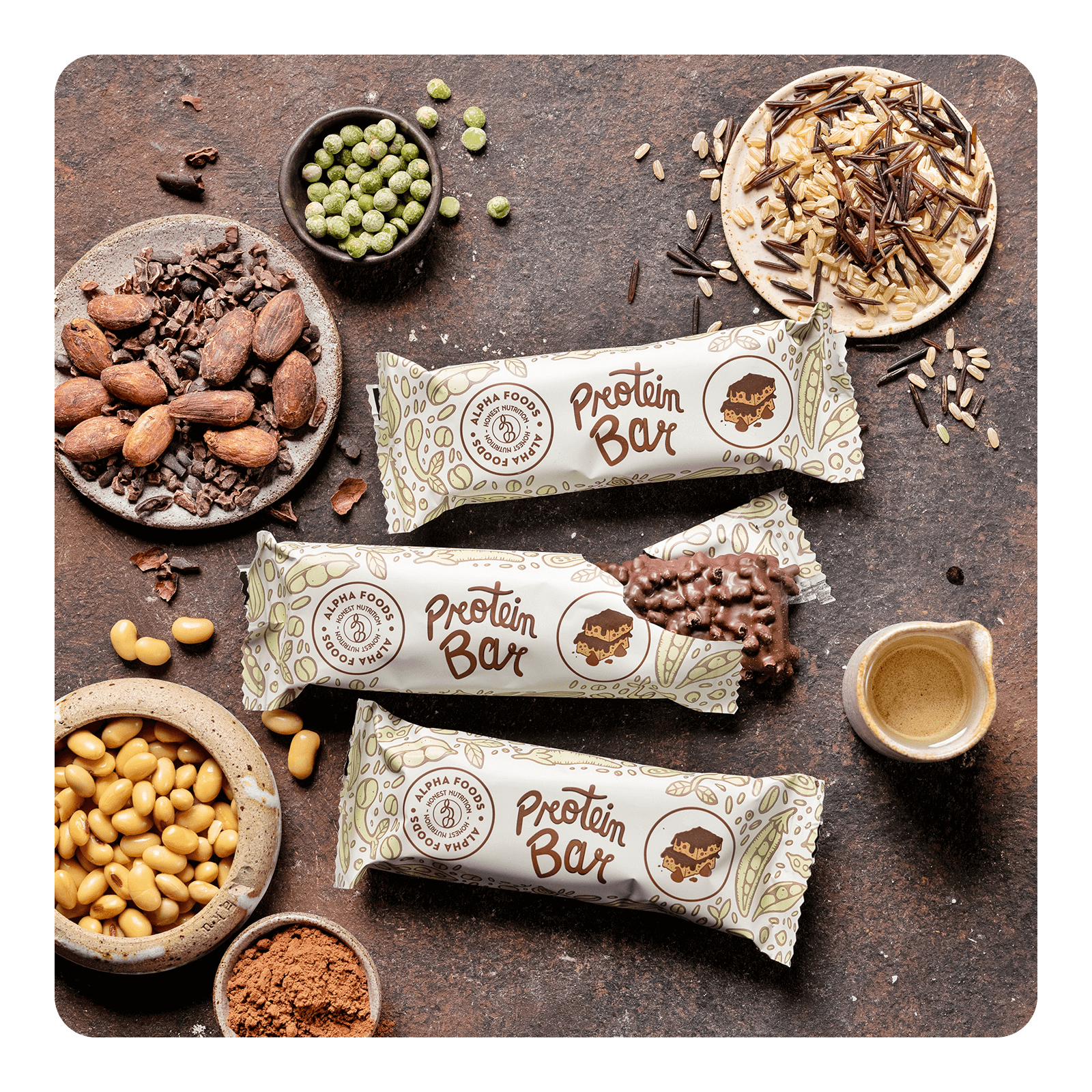 Protein Bars - Double Chocolate Brownie
Plant based protein bar with chocolate flavour
Triple protein source
Plant-based raw materials in a satisfying bar with high-quality and bioavailable protein from germinated wild rice, peas and soybeans.
Double Chocolate Brownie
Intensely chocolaty taste with crispy chocolate protein rice puffs and multi-layered, juicy protein chocolate without any added sugar.
Protein sources
Alpha Foods have always been based on pure plant-based protein sources from sprouted seeds and beans, which are naturally rich in nutrients but virtually free from typical anti-nutrients such as lectins or phytic acid.
Protein from soybean sprouts
Taste
The flavours are formulated and composed by masters of their craft to provide a natural, round and unbeatably delicious taste experience for which Alpha Foods protein bars are widely known for.
More information about this product
Ingredients
Show ingredients +
Chocolate couverture with sweetener (cocoa mass, sweetener: maltitol, cocoa butter, emulsifier: Lecithins, natural flavouring), Vegan protein blend (SOY protein isolate, pea protein isolate, rice protein isolate) 22%, humectant: glycerol, chocolate coating with sweetener and dietary fiber (sweetener: maltitol, cocoa butter, dietary fiber: oligofructose, cocoa mass, rice flour, emulsifier: lecithins, natural flavouring), dietary fibers: polydextrose, SOY protein nuggets (SOY protein isolate, cocoa, tapioca starch), sunflower oil, fat-reduced cocoa powder alkalized (acidity regulators: sodium hydroxide, potassium carbonate), flavouring. May contain traces of cereals containing gluten, milk, peanuts and nuts. Produced in a facility which also manufactures products containing peanuts and other nuts, cereals containing gluten and milk. Excessive consumption may produce laxative effects.
Nutritional information
Serving size
1 bar (55 g)
of which satured fatty acids
5,2 g
FAQ
Questions & answers
FAQ
Questions & answers
Do Alpha Foods Vegan Protein Bars contain sugar?
+
-
We do not use any added sugar in our bars. The smallest amounts of sugar (e.g. 0.4 g per bar in the Double Chocolate Brownie variety) are all natural sugars found in the protein sources or cocoa beans, for example.
Are the bars filling?
+
-
Each bar weighs 55g and is extremely filling due to the high protein content and the high macronutrient density. We love the protein bars as a satisfying and at the same time non-stressing snack between meals and before or after sports.
How do you get that incredibly moist texture?
+
-
Alpha Foods Vegan Protein Bars are the result of over a year of development in our test kitchen. Unlike conventional vegan protein bars, they are moist and not dry and are most comparable to a balanced chocolate brownie or a balanced peanut-chocolate bar.
How many bars are in each box?
+
-
Each box contains 15 vegan protein bars, each individually wrapped in coated and protective foil.
Are there any safety instructions?
+
-
May contain traces of gluten, peanuts and other nuts. May have a laxative effect if consumed in excess. Please store in a cool and dry place. How many bars are in each box?
Do you have more questions?
Exchange ideas with the Alpha Foods community
Facebook Group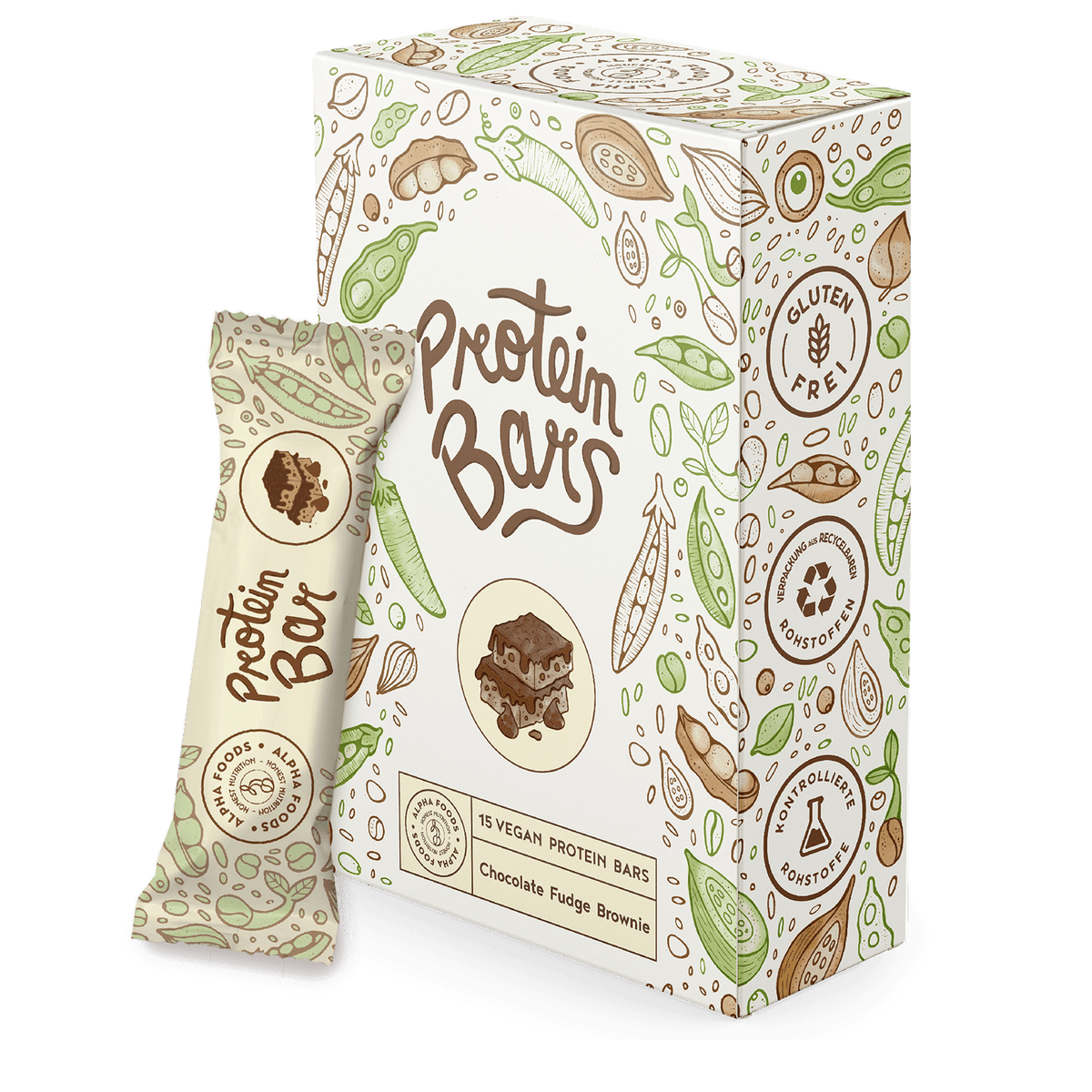 Try risk-free
Plant based protein bar with chocolate flavour
Add to cart
Every order comes with our 100% satisfaction guarantee
You either love your Alpha Foods or we offer a full refund.
What fits together?
These Alpha Foods might also be interesting for you: