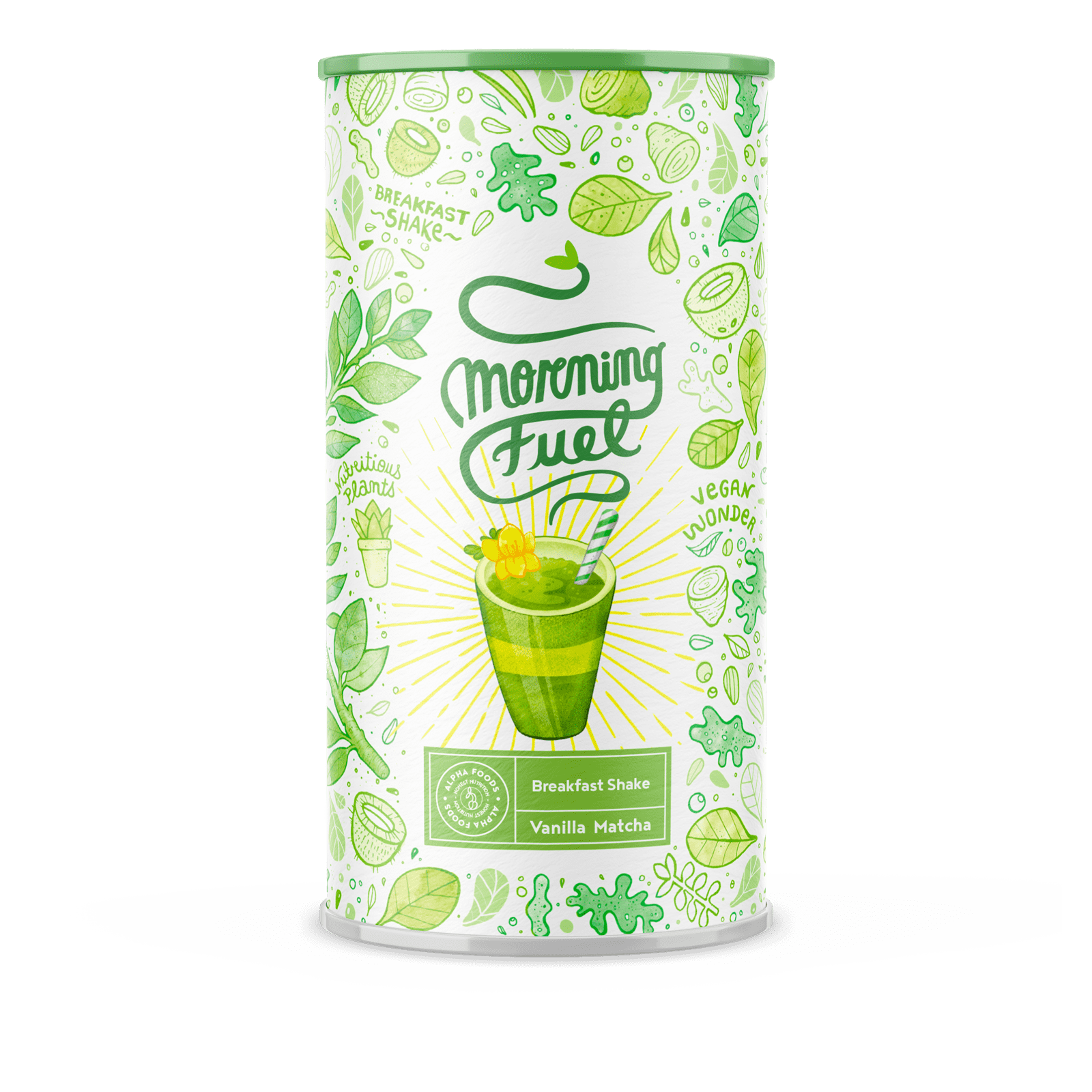 Morning Fuel - Breakfast Smoothie - Matcha & Vanilla Flavour
Protein rich plant based breakfast mix with added vitamins B6 & B12
Macro-nutrient sources
High quality sources of healthy and metabolically essential vegetable fats, low-glycaemic carbohydrates and bioavailable vegan proteins.
Coconut oil (with MCT oil)
Micro-nutrient sources
Raw materials rich in natural plant vitamins and minerals from local gardens or German algae aquacultures with spring water.
Other ingredients
Supplemented with a variety of healthy, wholesome ingredients that together make a delicious and, above all, filling breakfast shake.
Freshwater algae (spirulina)
More information about this product
Preparation
Mix 1 scoop (30 g) with 300 ml of water once a day or another liquid such as oat -, rice - or almond milk. We recommend using a protein shaker to make it quick and easy.
Ingredients
Show ingredients +
Oat flakes flour, Pea protein powder (7,5g), Coconut blossom sugar, Flavouring, Spinach juice powder (2,0g), Vegetable MCT oil powder (coconut oil, contains 50% medium chain triglyceride) (1,5g), Maca root powder (1,0g), Quinoa flour, Sunflower Lecithins, Flaxseed flour, Guar gum, Spirulina powder (Sulphites) (501mg), Indian psyllium seed husk powder (249mg), Almond flour, Guarana seed extract (contains 22% caffeine) (249mg), Ceremonial Matcha tea powder (249mg), Alfalfa herb powder (249mg), Bromelain (237mg), Sweet potato powder, Sweetener: Steviol glycosides, Cyanocobalamin (30 μg Vitamin B12 (1200% NRV*)), Pyridoxine Hydrochloride (2,8mg Vitamin B6 (202% NRV*)).
Nutritional information
20 portions per container
Serving size
1 Scoop (30 g)
of which saturated fatty acids
1,1 g
Pea protein 7.5 g (**)
Spinach leaf 2.0 g (**)
Vegetable MCT oil 1.5 g (**)
Spirulin 501 mg (**)
Indian psyllium seed husk 249 mg (**)
Maca root 249 mg (**)
Guarana seed 249 mg (**)
Matcha 249 mg (**)
Alfalfa herb 249 mg (**)
Bromelain 236 mg (**)
Vintamin B12 30 µg (1200%)
Vitamin B6 2.8 mg (200%)
* Nutrient Reference Values
FAQ
Questions & answers
FAQ
Questions & answers
What exactly is Morning Fuel?
+
-
Morning Fuel is our green breakfast shake. It provides you with the full spectrum of purely plant-based macro- and micronutrients for an optimal start to the day*. These include microfiltered raw pea protein as a vegan source of protein, MCT oil from coconuts and pressed flax seed for high-quality fats, as well as "slow carb" carbohydrates from quinoa, sweet potatoes, oats and psyllium. These have a particularly low glycaemic index, make you feel full for a long time and provide lasting energy.

The powdered juice from spinach, freshwater algae, alfalfa and maca roots provides a broad spectrum of micro nutrients. Finally, an extra portion of B6 and B12 vitamins contributes to a normal energy-yielding metabolism and to the reduction of tiredness and fatigue.

* Vitamin B6 and Vitamin B12 contribute to a normal energy-yielding metabolism and to the reduction of tiredness and fatigue.
Who is Morning Fuel not suitable for?
+
-
Morning Fuel contains, among other things, matcha tea and guarana seeds. Morning Fuel is therefore not suitable for breastfeeding or pregnant women and children. It is also not recommended if you are hypersensitive to caffeine. The total caffeine content per daily dose is 54,8mg.
What does Morning Fuel taste like?
+
-
Morning Fuel is probably our creamiest shake with a unique velvety consistency. The subtle sweetness comes mainly from coconut blossom sugar, a wholesome, low-calorie, natural sugar alternative with a very low GI. The taste of Morning Fuel is captivating with its wonderfully natural vanilla-almond flavour, which it owes to the best bourbon vanilla and ground Californian almonds.
Are there also sample packs?
+
-
Unfortunately, we don't have any sample packs at the moment. However, because we know that not every flavour really tastes the same for everyone, you can return opened boxes to us and we will refund the full purchase price. So you won't be stuck with the cost if you find that our power powders don't meet your expectations. Please note that we generally cannot cover return costs and that the return must be made within 60 days of payment for the order.
Can I also combine Morning Fuel with other powders?
+
-
Thanks to its wonderfully mild taste, Morning Fuel is beautifully suitable as a basis for many other Alpha Foods such as Green Mother or Red Power. You can find many ideas for using Morning Fuel and the other Alpha Foods in our Academy and in our Facebook group.
Are there any safety instructions?
+
-
Warnings: Contains caffeine (54,8 mg/daily dose). Not recommended for children or pregnant or breast-feeding women. Food supplements should not be used as a substitute for a varied and balanced diet and healthy lifestyle. Store in a cool, dry and dark place and out of reach of young children. Do not exceed the stated recommended daily dose.

600g ℮

Source of Fiber. High Protein. Vitamin B6 and Vitamin B12 contribute to the reduction of tiredness and fatigue.
Do you have more questions?
Exchange ideas with the Alpha Foods community
Facebook Group
1 Vitamin B6 and Vitamin B12 contribute to a normal energy-yielding metabolism and to the reduction of tiredness and fatigue.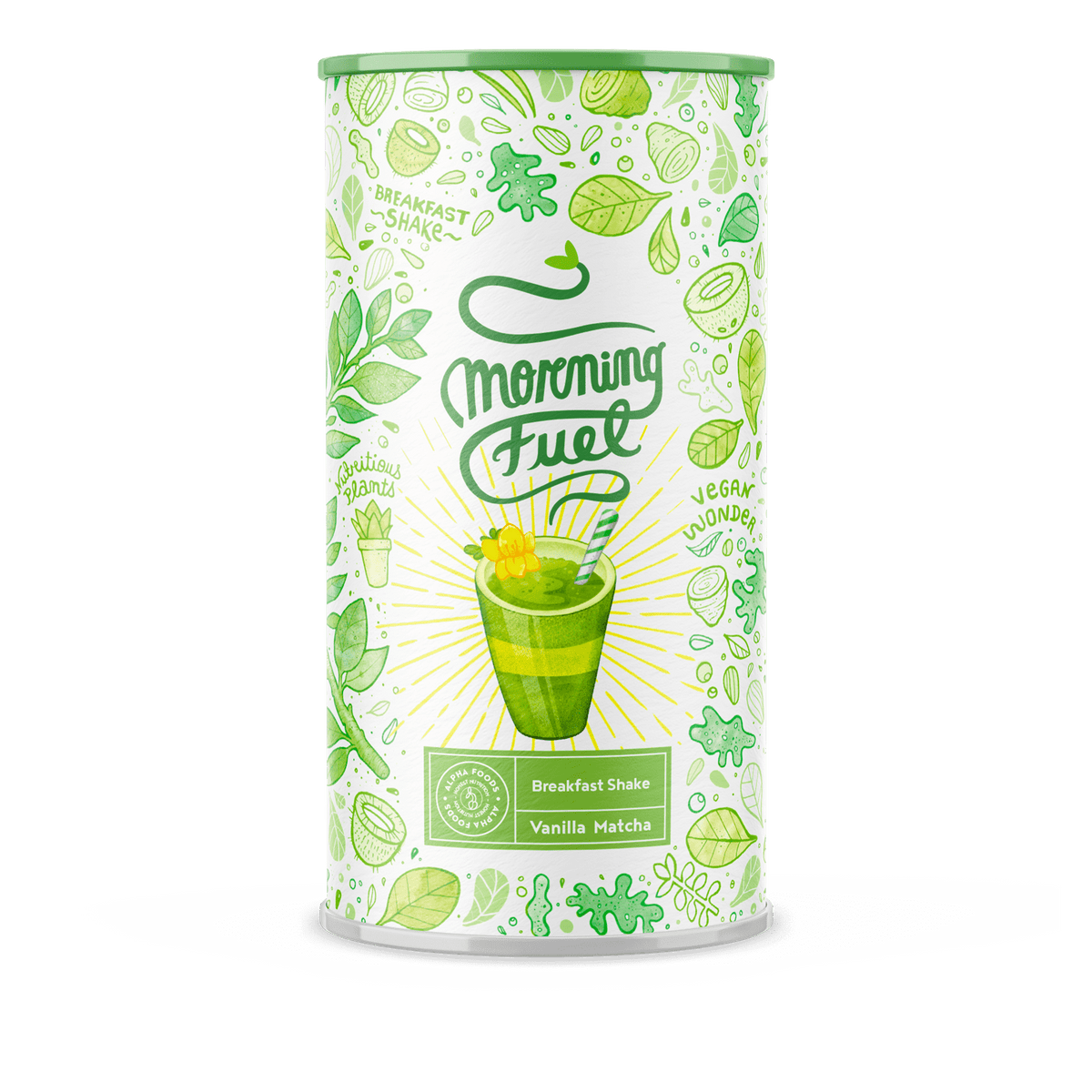 Try risk-free
Protein rich plant based breakfast mix with added vitamins B6 & B12
Add to cart
Every order comes with our 100% satisfaction guarantee
You either love your Alpha Foods or we offer a full refund.
What fits together?
These Alpha Foods might also be interesting for you: