Active ingredients from turmeric, sulphur and frankincense synergistically combined.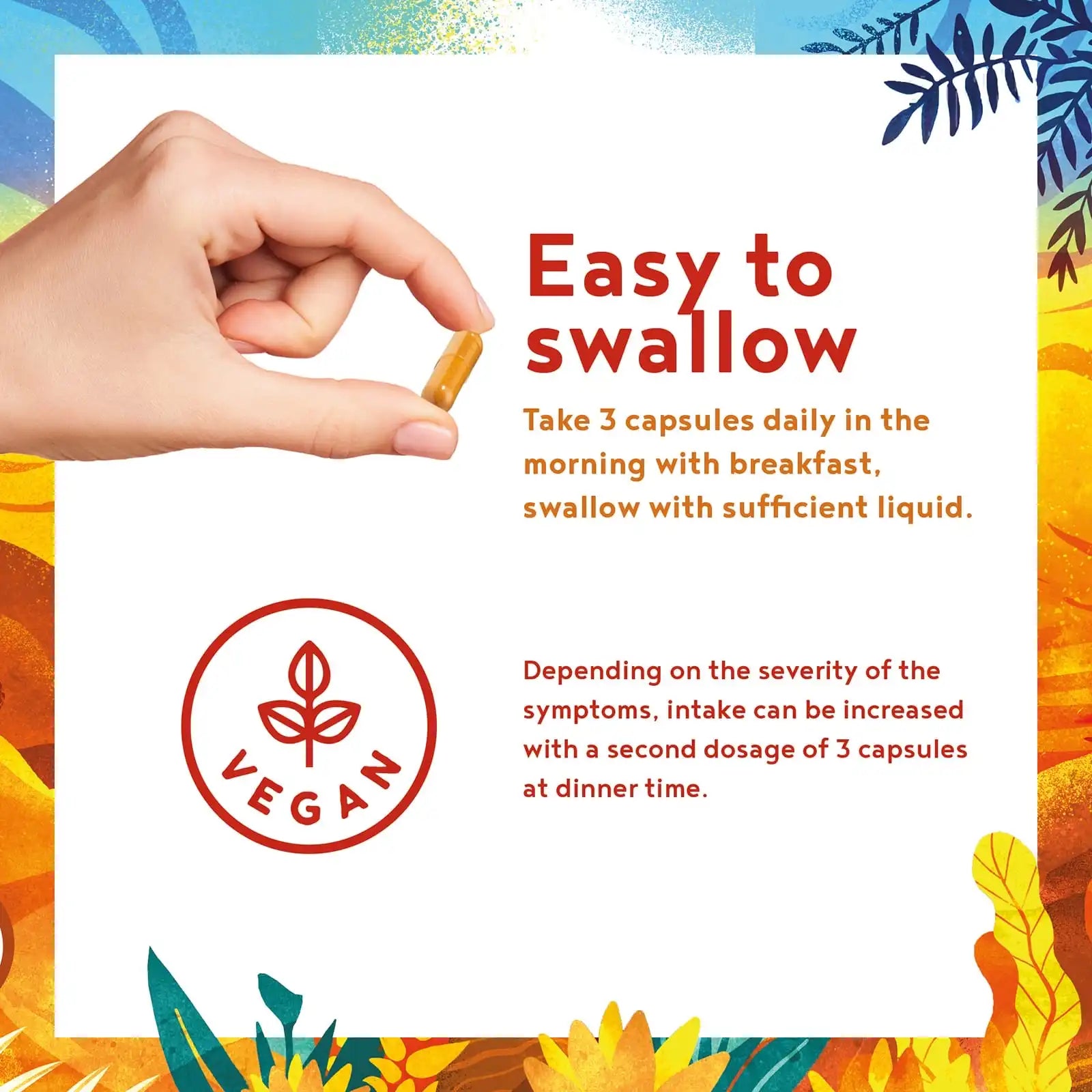 Vegetable active ingredients
Proven active ingredients sensibly combined and dosed: Our TH2 capsules are a 360-degree formulation of symbiotic active ingredients.
More information about this product
Preparation
Take 3 capsules daily in the morning at breakfast with sufficient liquid. If needed, take a second dose of 3 capsules with dinner.
Ingredients
Show ingredients +
Methylsulfonylmethane, turmeric rootstock extract (Curcuma longa, 95% curcuminoids), vegetable capsule shell (coating agent: hydroxypropylmethylcellulose), frankincense extract (Boswelia serrata, 85% boswellic acid), rice flour, spirulina powder (Arthrospira platensis, SULFITE), Ceylon cinnamon bark Extract (Cinnamomum zeylanicum), Ginger Rootstock Extract (Zingiber officinale, 5% Gingerols), Black Pepper Fruit Extract (Pipernigrum, 95% Piperine).
Nutritional information
90 capsules per can
Methylsulfonylmethane
800 mg
Turmeric Rootstock Extract
450 mg
including curcuminoids
427 mg
Frankincense Extract
305 mg
of which boswellic acid
260 mg
Ceylon Cinnamon Bark Extract
100 mg
Ginger Rootstock Extract
100 mg
Black Pepper Extract
2,1 mg
FAQ
Questions & answers
FAQ
Questions & answers
What exactly is TH2 Support?
+
-
TH2 Support is an effective active ingredient mixture of sulfur, turmeric and frankincense - raw materials that are known for their high density of natural antioxidants.
Are the TH2 Support capsules vegan?
+
-
Yes - all ingredients, including the plant fiber capsule shell, are vegan. We do not use any animal or synthetic ingredients.
Are there safety instructions?
+
-
Dietary supplements are not intended as a substitute for a balanced and varied diet and a healthy lifestyle. The recommended daily dose should not be exceeded. Keep out of reach of small children. Not recommended for people suffering from impaired liver or bile function or gallstones. Not suitable for persons under the age of 18.
Do you have more questions?
Exchange ideas with the Alpha Foods community
Facebook Group
Try risk-free
Active ingredients from turmeric, sulphur and frankincense synergistically combined.
Add to cart
Every order comes with our 100% satisfaction guarantee
You either love your Alpha Foods or we offer a full refund.
What fits together?
These Alpha Foods might also be interesting for you: