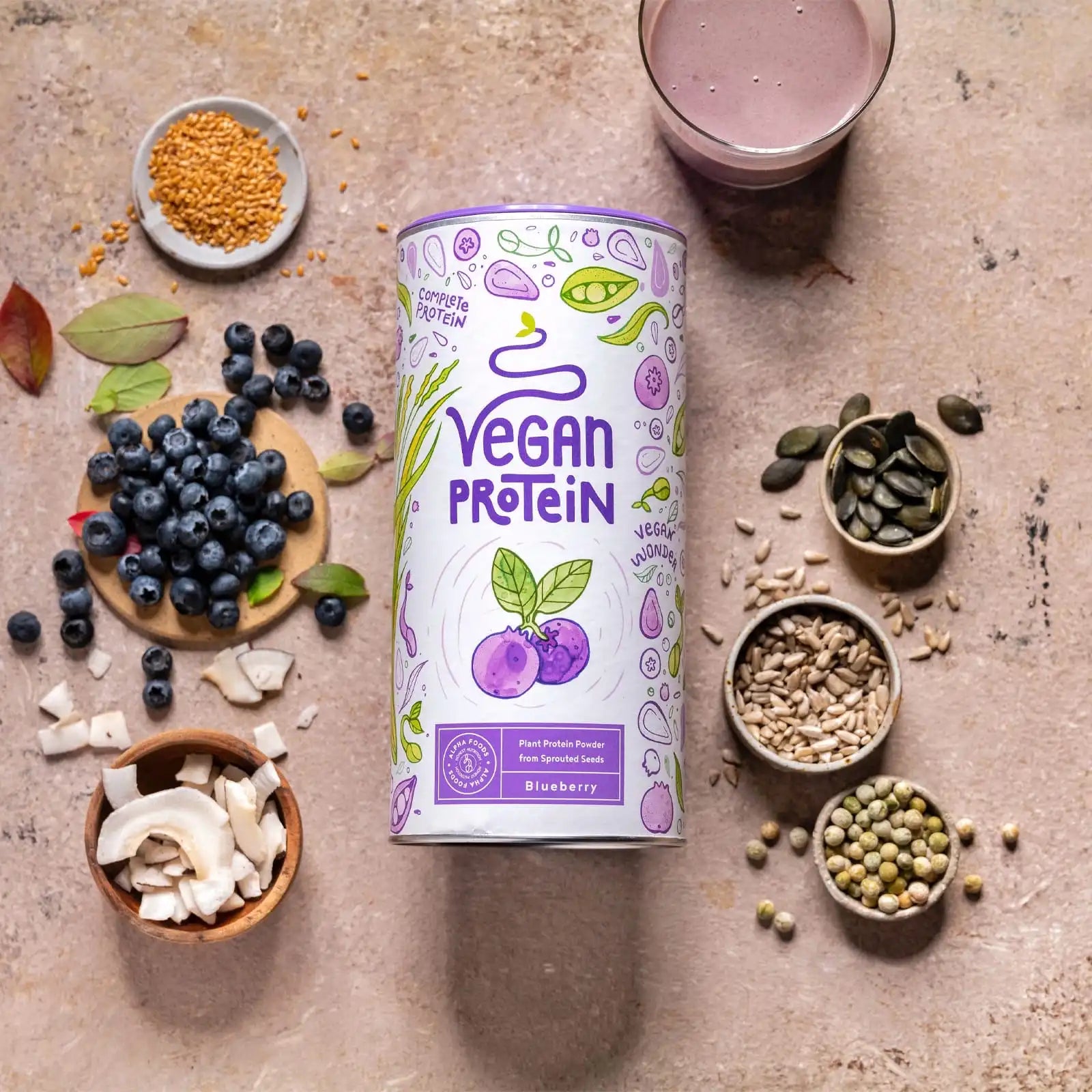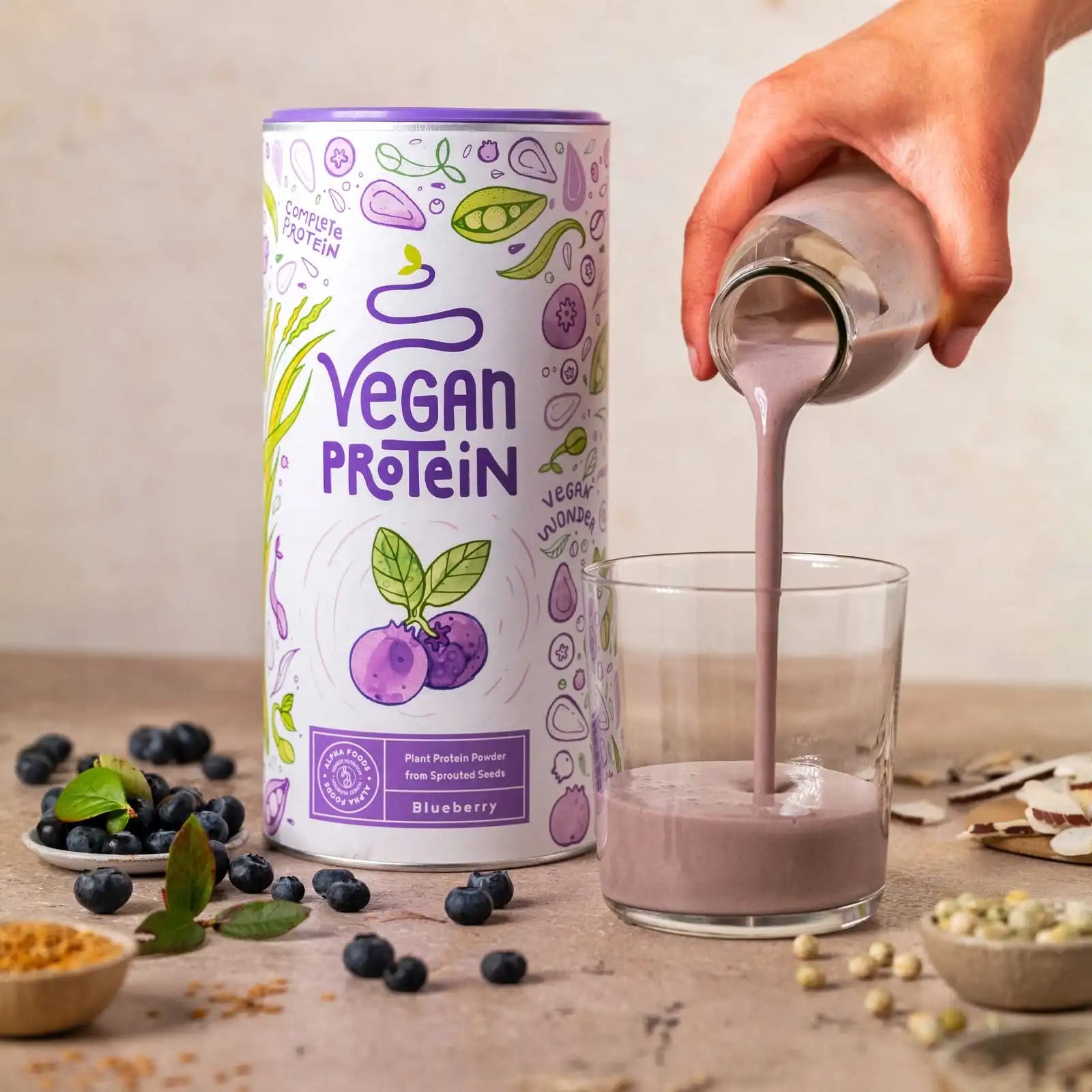 Vegan Protein - Blueberry Flavour
Plant-based protein powder with blueberry flavour & pure, natural ingredients.
Vegan & fruity
Best and above all pure natural fruity blueberry flavour
Sprouted seeds
Bioavailable and digestible vegan protein blend with protein from the sprouted seeds of different superfoods.
Gluten free
Soy free
Vegan
Plant based protein sources
Alpha Foods have always been based on pure plant-based protein sources from sprouted seeds and beans, which are naturally rich in nutrients but virtually free of typical anti-nutrients such as lectins or phytic acid.
Sprouted sweet lupine protein
Sprouted sunflower seed protein
Sprouted pumpkin seed protein
Sprouted amaranth protein
Shake booster
Flavours that have always been formulated and composed by true masters of their craft provide a natural, rounded and unbeatably delicious taste experience for which Alpha Foods proteins are widely known.
More information about this product
Preparation
Mix 1 heaped scoop (15 g) with at least 200 ml of water or another liquid such as oat - , rice - or almonddrink. We recommend using a protein shaker to make it quick and easy.
Ingredients
Show ingredients +
Pea protein powder, Black carrot extract, Natural Blueberry Flavouring, Flaxseed protein powder, Rice protein concentrate, Sunflower seed protein powder, Pumpkin seed protein powder, Amaranth protein powder, Guar gum, Lupin protein powder, Beetroot root powdered juice, Bromelain, Coconut milk powder, Sweetener: Steviol glycosides, Ceylon cinnamon powder.
Nutritional information
40 portions per container
Serving size
1 Scoop (15 g)
of which saturated fatty acids
0,2 g
Isoleucine 356 mg
Leucine 625 mg
Valine 682 mg
Lysine 566 mg
Methionine 74 mg
Histidine 154 mg
Phenylalanine 383 mg
Threonine 257 mg
Tryptophan 57 mg
Alanin 319 mg
Arginine 612 mg
Aspartic acid 806 mg
Cysteine 105 mg
Glutamic acid 1.186 mg
Glycine 280 mg
Proline 262 mg
Serine 590 mg
Tyrosine 40 mg
FAQ
Questions & answers
FAQ
Questions & answers
What makes Alpha Foods Vegan Protein so special?
+
-
Unlike comparable products, our Vegan Protein is an even mixture of the most diverse plant proteins. This not only ensures a particularly balanced amino acid profile, but also special bioavailability and optimal, gradual absorption by the body. In addition, we use protein from sprouted seeds, which contains particularly little of the anti-nutrient phytic acid and is therefore extremely digestible - completely without emulsifiers or other additives, which other manufacturers often do not even declare. Our Vegan Protein is therefore a very good choice for all those who want to supplement their supply with vegetable protein. It is also great for athletes for muscle recovery after a workout *.

* protein contributes to a growth in muscle mass.
Are there also sample packs?
+
-
Unfortunately, we don't have any sample packs at the moment. However, because we know that not every flavour really tastes the same for everyone, you can return opened boxes to us and we will refund the full purchase price. So you won't be stuck with the cost if you find that our power powders don't meet your expectations. Please note that we generally cannot cover return costs and that the return must be made within 60 days of payment for the order.
What is the quantity ratio between the individual components?
+
-
Of all 9 superfood protein sources, all are contained in almost equal amounts. Only the proportion of pea protein is slightly higher.
What distinguishes Alpha Foods from other protein powders?
+
-
We do not primarily use cheap protein sources such as pea protein, but quite deliberately a high-quality mixture of different protein sources - such as sunflower seeds and rice seeds - which ensures a particularly good and gradual absorption in the body. Our powders mainly contain proteins from sprouted seeds, which means they contain very little phytic acid and are particularly well tolerated. Unlike other manufacturers, we do not use sugar or artificial sweeteners such acesulfame K in our powders. We therefore sweeten exclusively naturally and at the same time calorie-free with the extract from the stevia plant. Finally, in addition to the protein sources and the natural, sugar-free sweetness, we also use only natural flavour sources such as real vanilla extract, the finest cocoa powder or the natural flavour from fresh, Bavarian blueberries. Our promise to the whole community has always been: we make products because we believe in them and want to enjoy them ourselves with a clear conscience.
Are there any safety instructions?
+
-
Store in a cool, dry place away from direct sunlight. Once opened, use within 8 weeks.

600g ℮
Do you have more questions?
Exchange ideas with the Alpha Foods community
Facebook Group
Try risk-free
Plant-based protein powder with blueberry flavour & pure, natural ingredients.
Add to cart
Every order comes with our 100% satisfaction guarantee
You either love your Alpha Foods or we offer a full refund.
What fits together?
These Alpha Foods might also be interesting for you: