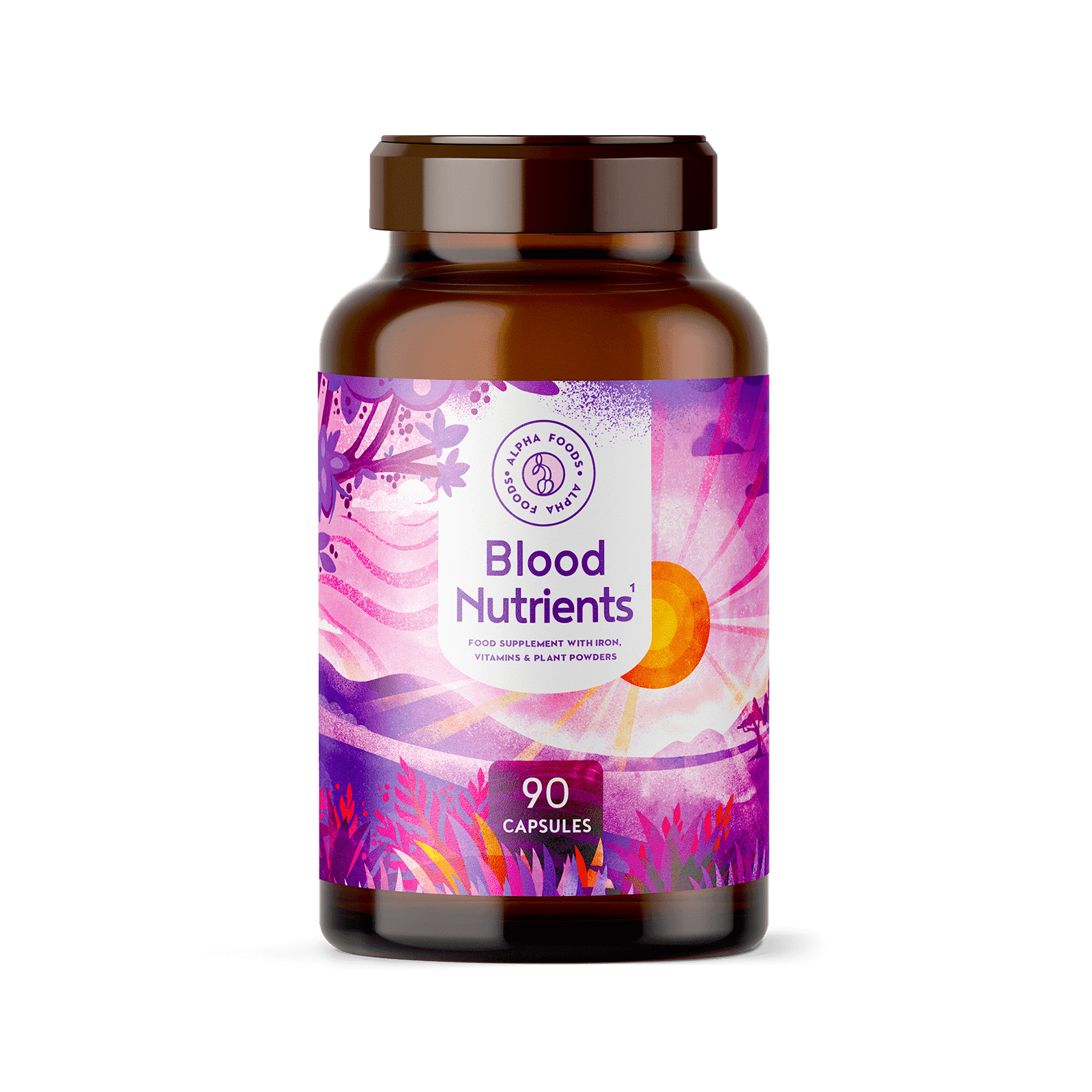 Iron, B vitamins and secondary plant compounds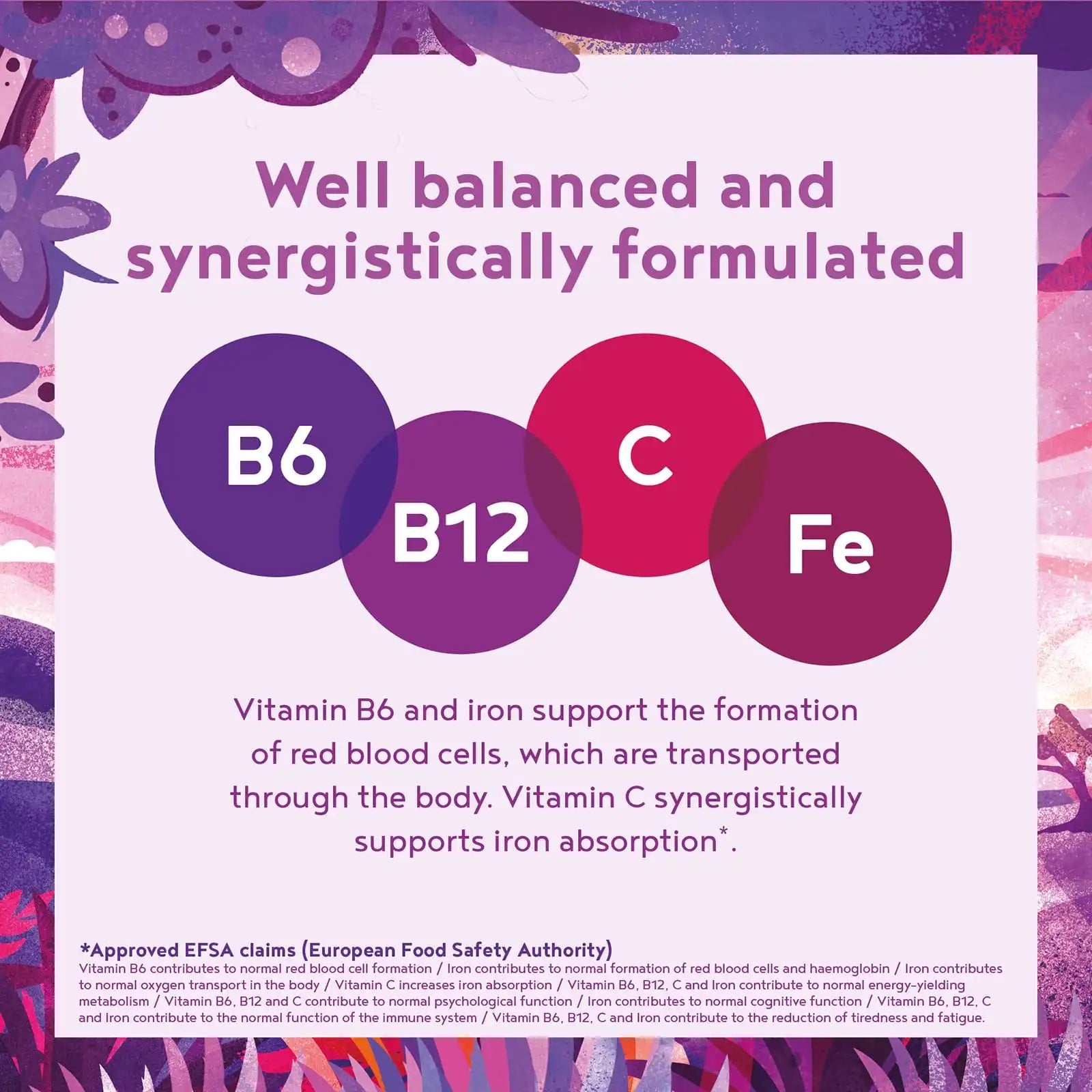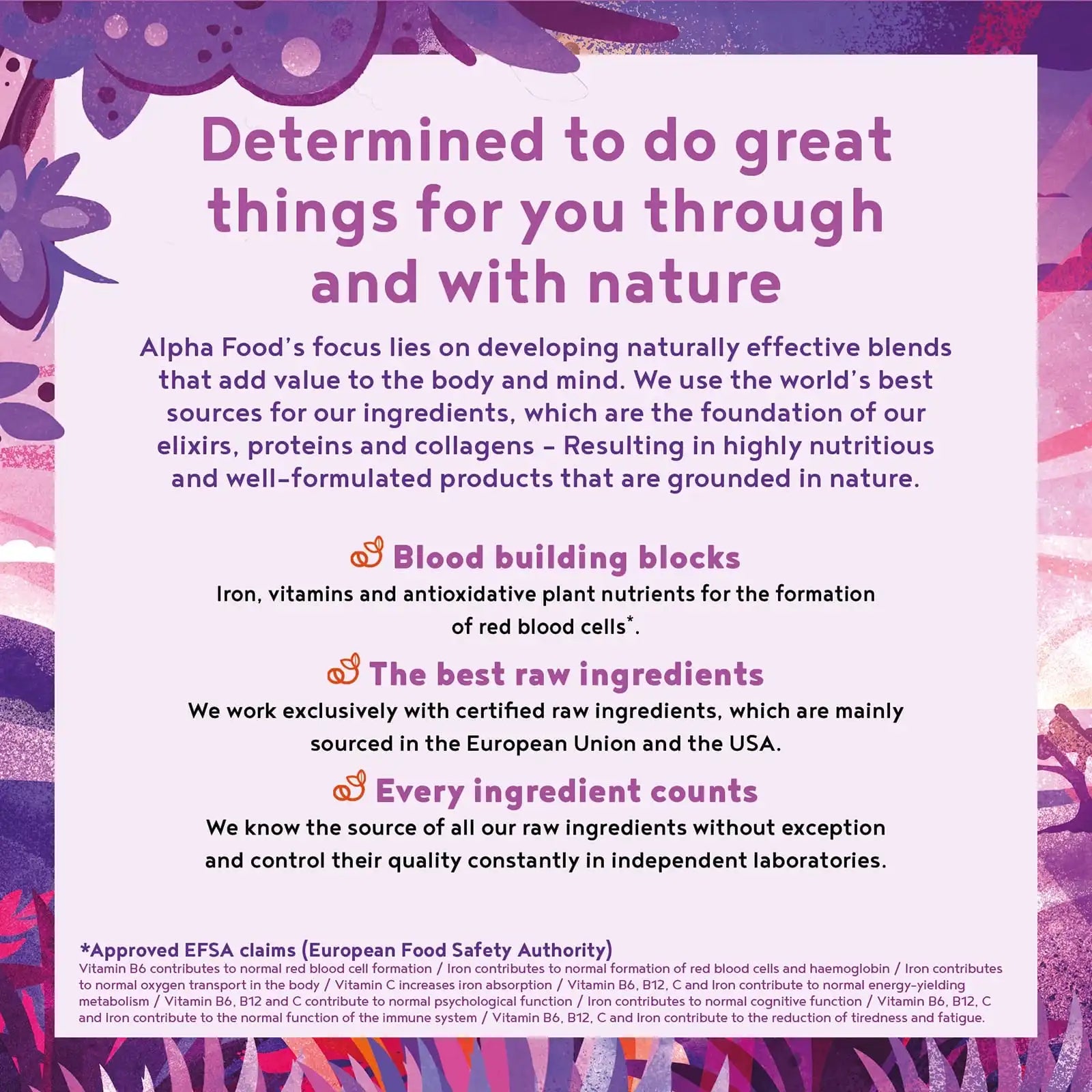 Gluten free
Soy free
Unsweetened
Vegan
Nutrients
Nutrients can either be active building blocks of blood or indirectly stimulate and promote blood synthesis. Blood nutrients from Alpha Foods contain both subtypes of vitamins and trace elements.
Secondary plant substances
In traditional naturopathy, plants have been used for centuries to purify and stimulate the blood, and their major health benefits and mode of action are now also backed up by contemporary clinical studies.
More information about this product
Preparation
Take 2 capsules daily with a meal with sufficient liquid or follow the instructions of the therapist.
Ingredients
Show ingredients +
Matrimony vine fruit powder (Lycium barbarum L.), Vegetable capsule shell (glazing agent : Hydroxypropylmethylcellulose), acai fruit powder (Euterpe oleracea Mart.), raspberry juice powder (Rubus idaeus L.), anti-caking agent (magnesium salts of fatty acids), calcium-L-ascorbate (Vitamin C), ferrous sulphate, pyridoxal 5'-phosphate (Vitamin B6), calcium L-methylfolate (Folic acid), methylcobalamin (Vitamin B12).
Nutritional information
90 Capsules per container
Vitamin B12
12,6 mcg (504%)
Folic acid
328 mcg (164%)
Matrimony vine powder
450 mg (**)
** No nutrient reference values (NRV) available
FAQ
Questions & answers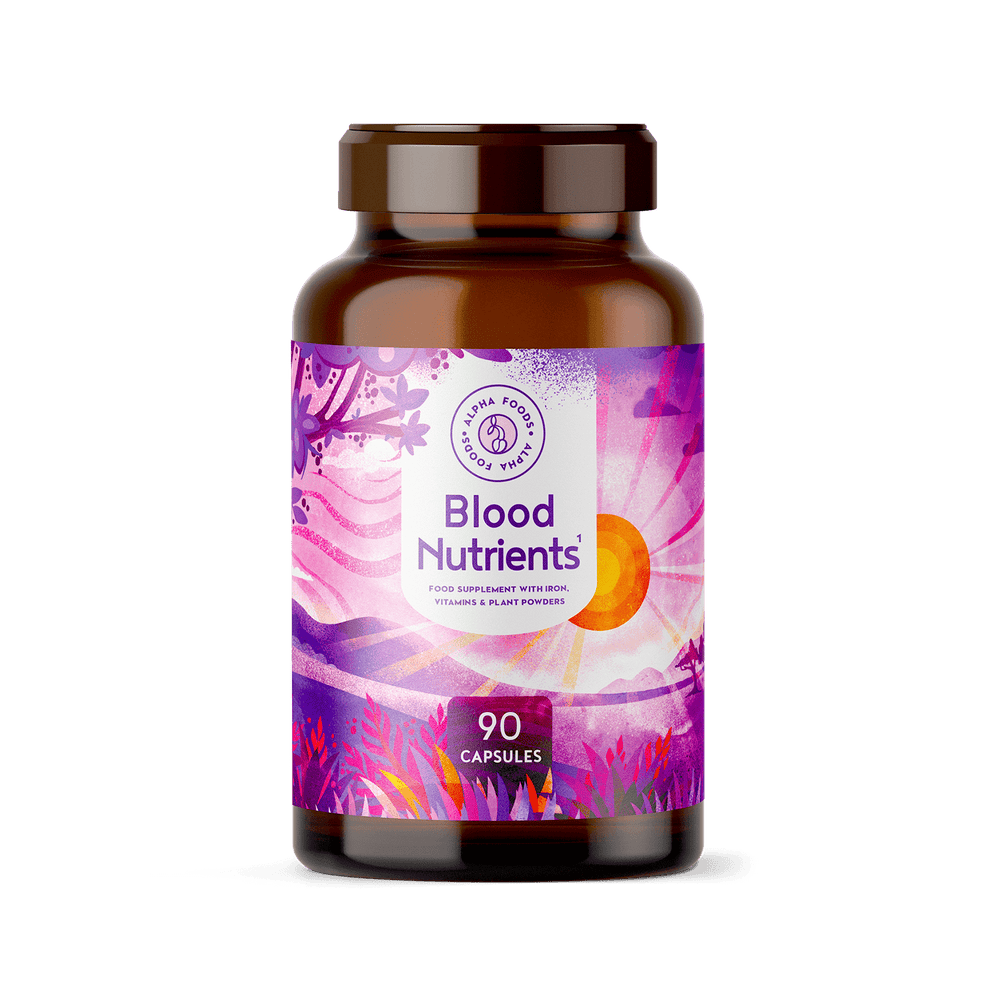 FAQ
Questions & answers
What are "Blood Nutrients"?
+
-
Blood nutrients are encapsulated complementary micronutrients and plant extracts. In addition to digestible iron, each capsule contains vitamins C, B6, B12 and natural folate (instead of synthetic folic acid). The various substances individually and in combination have a positive influence on the healthy formation of red blood cells and haemoglobin, cell division, the transport of oxygen within the body and in these ways also cause a noticeable reduction in tiredness and fatigue in general.
What's so special about "Blood Nutrients"?
+
-
In contrast to often expensive mono-products such as pure iron capsules, we do not use the remaining and abundant space in the capsules to fill them with cheap filler material, but supplement the iron with synergetic natural nutrients and plant substances, which in their interaction are not only significantly better tolerated, but also provide noticeably better added value.
How do I take "Blood Nutrients"?
+
-
We recommend taking 1 to 2 capsules daily with a meal with sufficient liquid or following the instructions of the therapist.
Do you have more questions?
Exchange ideas with the Alpha Foods community
Facebook Group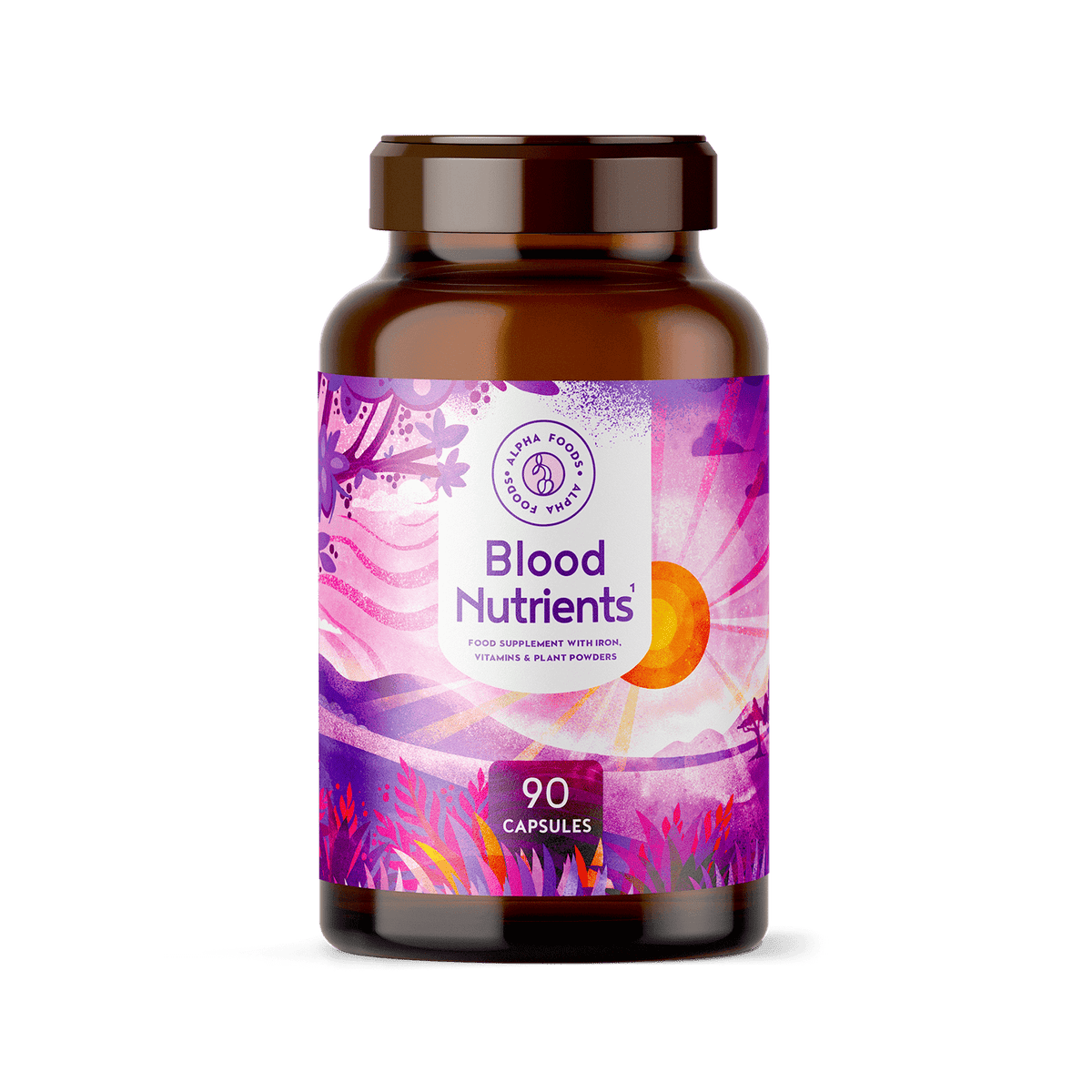 Try risk-free
Iron, B vitamins and secondary plant compounds
Add to cart
Every order comes with our 100% satisfaction guarantee
You either love your Alpha Foods or we offer a full refund.
What fits together?
These Alpha Foods might also be interesting for you: