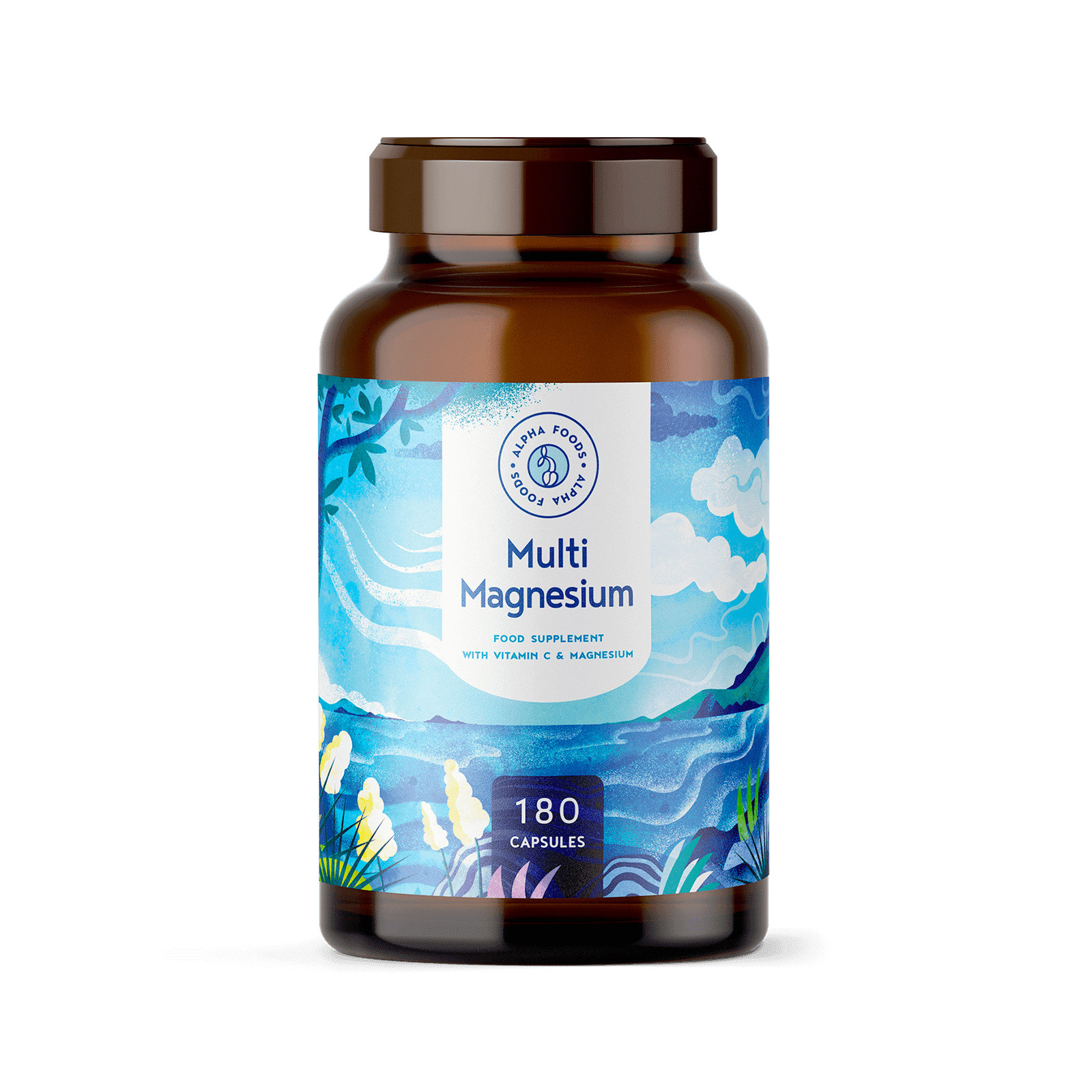 Bioavailable broad-spectrum magnesium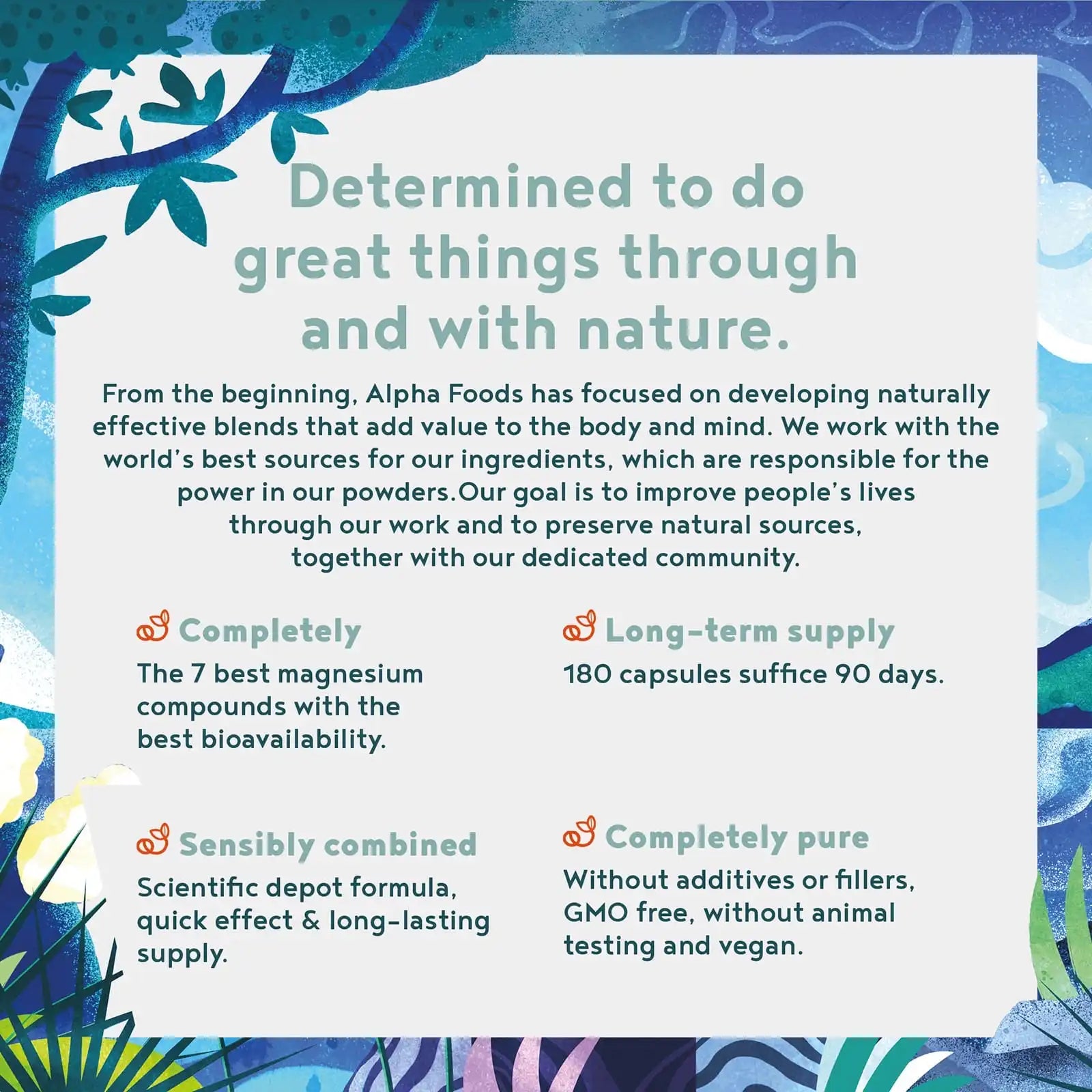 Gluten free
Soy free
Unsweetened
Vegan
Magnesium compounds
A total of seven magnesium sources optimised for bioavailability supplemented with pure elemental magnesium from the iodine-free "Ulva Lactuca" algae.
Phyto-Magnesium (Ulva Lactuca)
More information about this product
Preparation
Take 2 capsules daily with sufficient liquid or follow the instructions of the therapist. The intake can be taken independently of meals and times of day.
Ingredients
Show ingredients +
Magnesium bisglycinate, Magnesium malate, Vegetable capsule shell (glazing agent : Hydroxypropylmethyl-cellulose), Magnesium gluconate, Magnesium salts of orthophosphoric acid, Magnesium salts of citric acid, Magnesium L-ascorbate.
Nutritional information
180 capsules per container
Elementary magnesium
195 mg (52%*)
* Nutrient reference values
FAQ
Questions & answers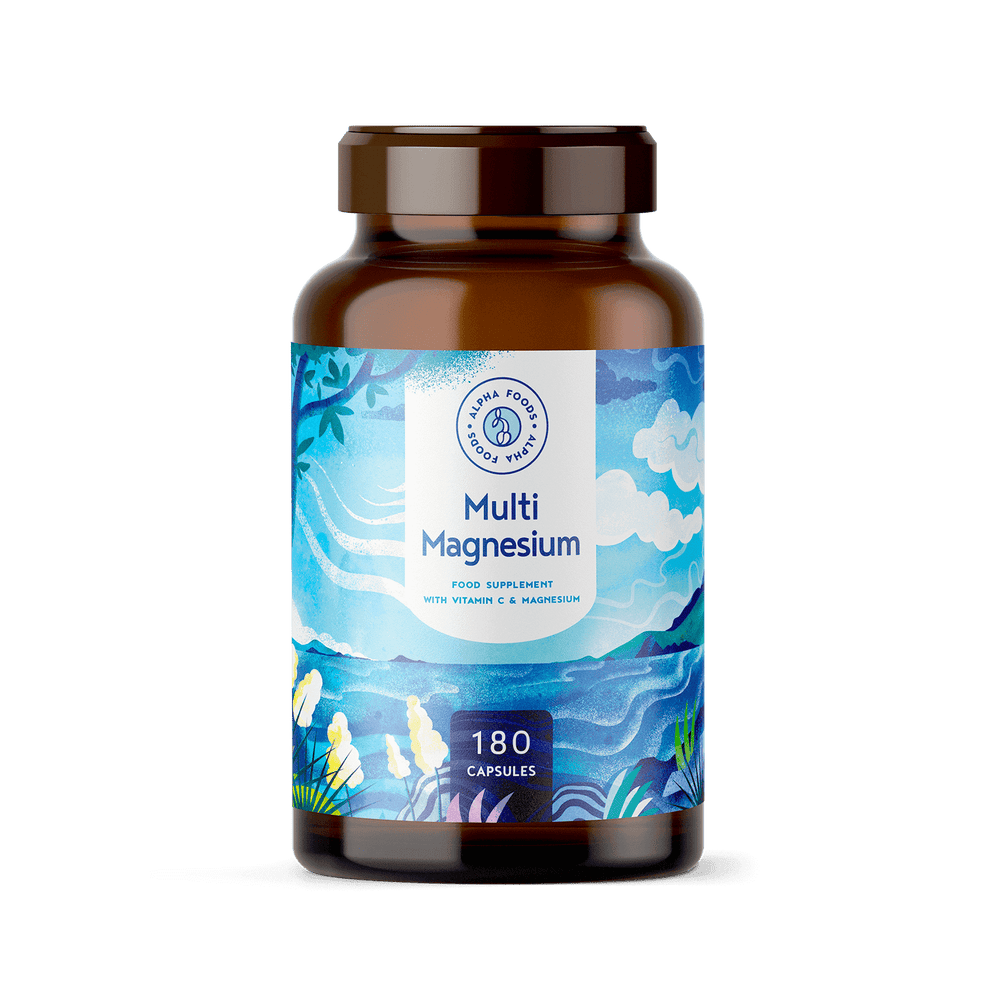 FAQ
Questions & answers
What's so special about Alpha Foods' Multi Magnesium?
+
-
The vast majority of magnesium supplements use simple magnesium compounds such as magnesium citrate, which are usually barely absorbed by the body. Alpha Foods' Multi-Magnesium focuses on variety to optimise the absorption by the organism and to create the noticeable added value that is expected from magnesium. To achieve this, we use seven high-quality, uniquely combined magnesium compounds in a harmonious ratio: magnesium bisglycinate, magnesium malate, magnesium salts of orthophosphoric acid, magnesium gluconate, magnesium L-aspartate, magnesium citrate and magnesium ascorbate. In addition, we use highly pure, iodine-free phyto-magnesium from Ulva Lactuca algae.
Are there any additives?
+
-
Multi-Magnesium contains 100% magnesium compounds and 0% additives with every capsule. It is free from harmful substances and also without artificial or animal additives such as magnesium stearate, separating agents, colourings, stabilisers, fillers. The capsules are also vegan, GMO-free, lactose-free and gluten-free.
How much elemental magnesium is contained per capsule?
+
-
Each capsule contains 100mg of elemental magnesium, which is 27% of the total daily magnesium requirement.
Do you have more questions?
Exchange ideas with the Alpha Foods community
Facebook Group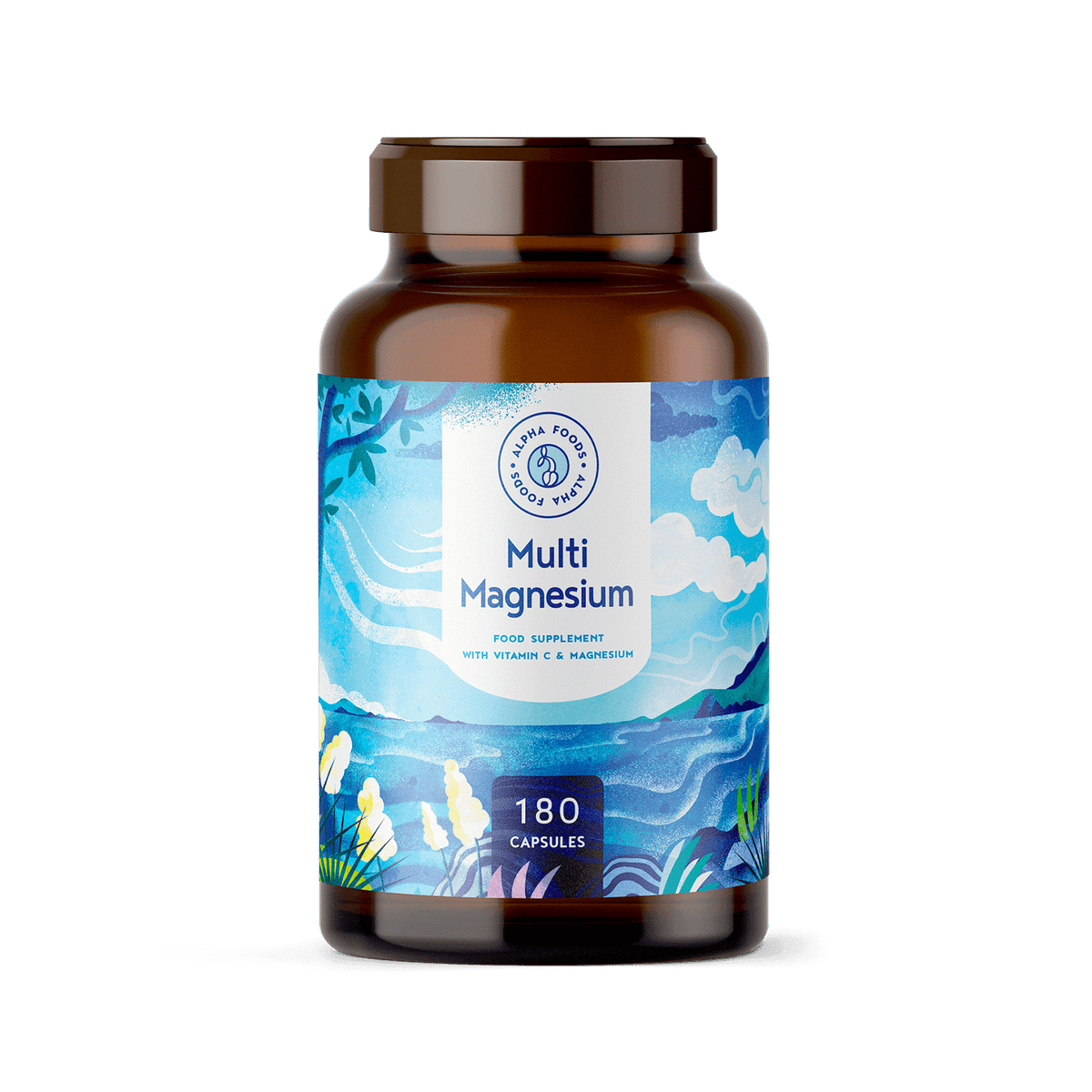 Try risk-free
Bioavailable broad-spectrum magnesium
Add to cart
Every order comes with our 100% satisfaction guarantee
You either love your Alpha Foods or we offer a full refund.
What fits together?
These Alpha Foods might also be interesting for you: