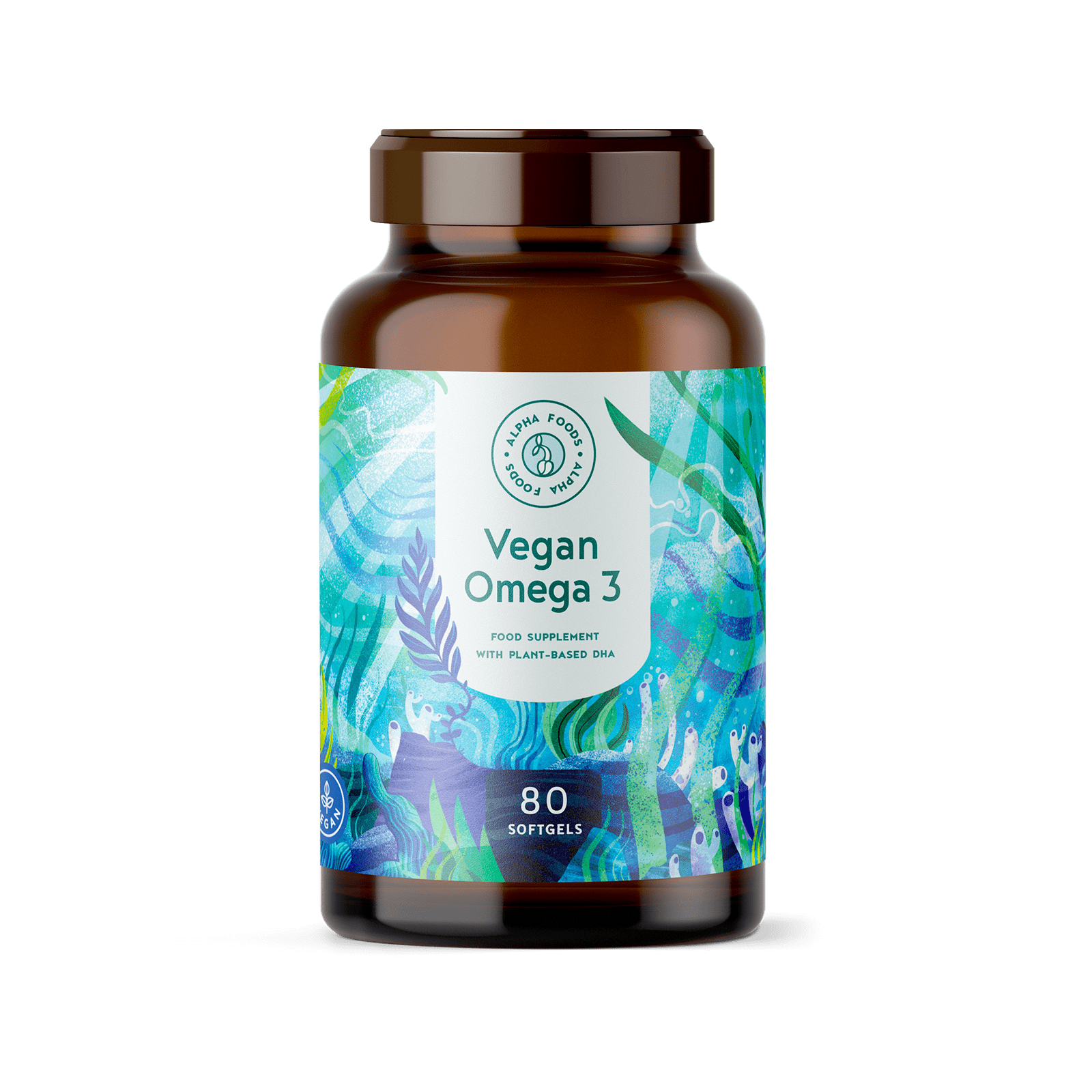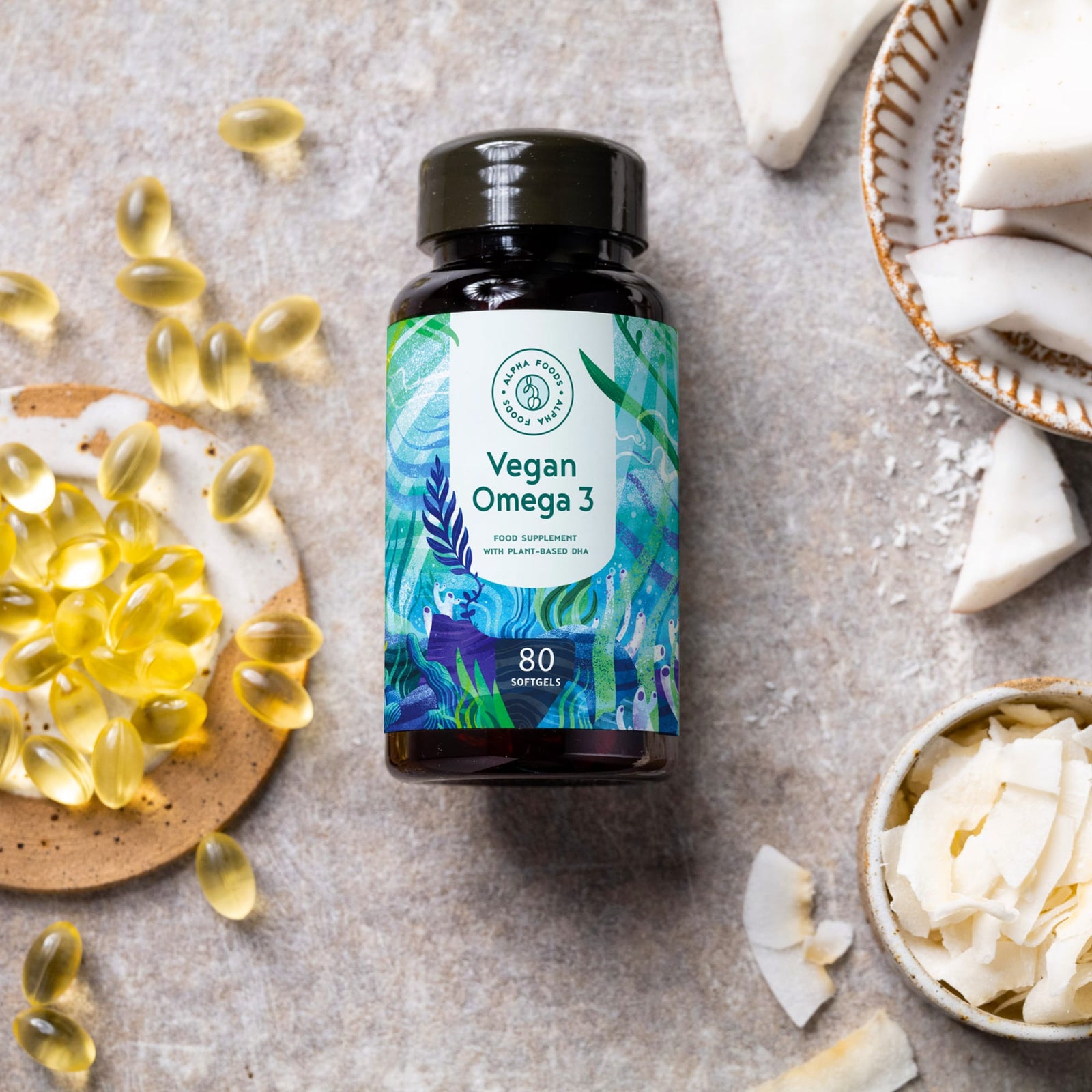 Vegan Omega 3 from algae oils. With DHA fatty acids.
Powerful Omega 3
Contains valuable algae oils that contain DHA fatty acids - for 100% vegan and pollutant-free Omega 3.
Algae oil from fresh and saltwater algae
More information about this product
Preparation
Take one to two softgel capsules daily spread throughout the day with sufficient liquid.
Ingredients
Show ingredients +
Algae Oils (with Antioxidant: Tocopherol Extracts), Soft Capsule (Vegetable Starch: Hydroxypropyl Starch, Vegan Coconut Glycerin, Osmosis Water).
Nutritional information
80 softgels per can
** No nutrient reference values (NRV) available
FAQ
Questions & answers
FAQ
Questions & answers
What exactly is Alpha Foods Vegan Omega 3?
+
-
In contrast to conventional Omega 3 capsules, our plant-based Omega 3 does not consist of fish oil, but of cold-pressed algae oil.
What makes your Omega 3 so special?
+
-
First, we use a particularly potent blend that contains both essential forms of Omega 3 - DHA. In contrast to other vegan omega 3 capsules, we also do without other additives such as humectants and stabilizers. Our soft gel covers consist only of vegetable starch and sterile osmosis water.
How do I take the capsules?
+
-
Take one to two capsules daily with plenty of liquid throughout the day.
Where do the ingredients come from?
+
-
Our algae oil comes from Germany. Here the algae are grown on site on our behalf in state-of-the-art glass tanks without the use of pesticides or herbicides. The oils are produced directly in small batches, after which we then bottle them in our state-of-the-art facility in Bavaria.
Are there safety instructions?
+
-
Dietary supplements are not intended as a substitute for a balanced and varied diet and a healthy lifestyle. The recommended daily dose should not be exceeded. Keep out of reach of small children. Not suitable for persons under the age of 18.
Do you have more questions?
Exchange ideas with the Alpha Foods community
Facebook Group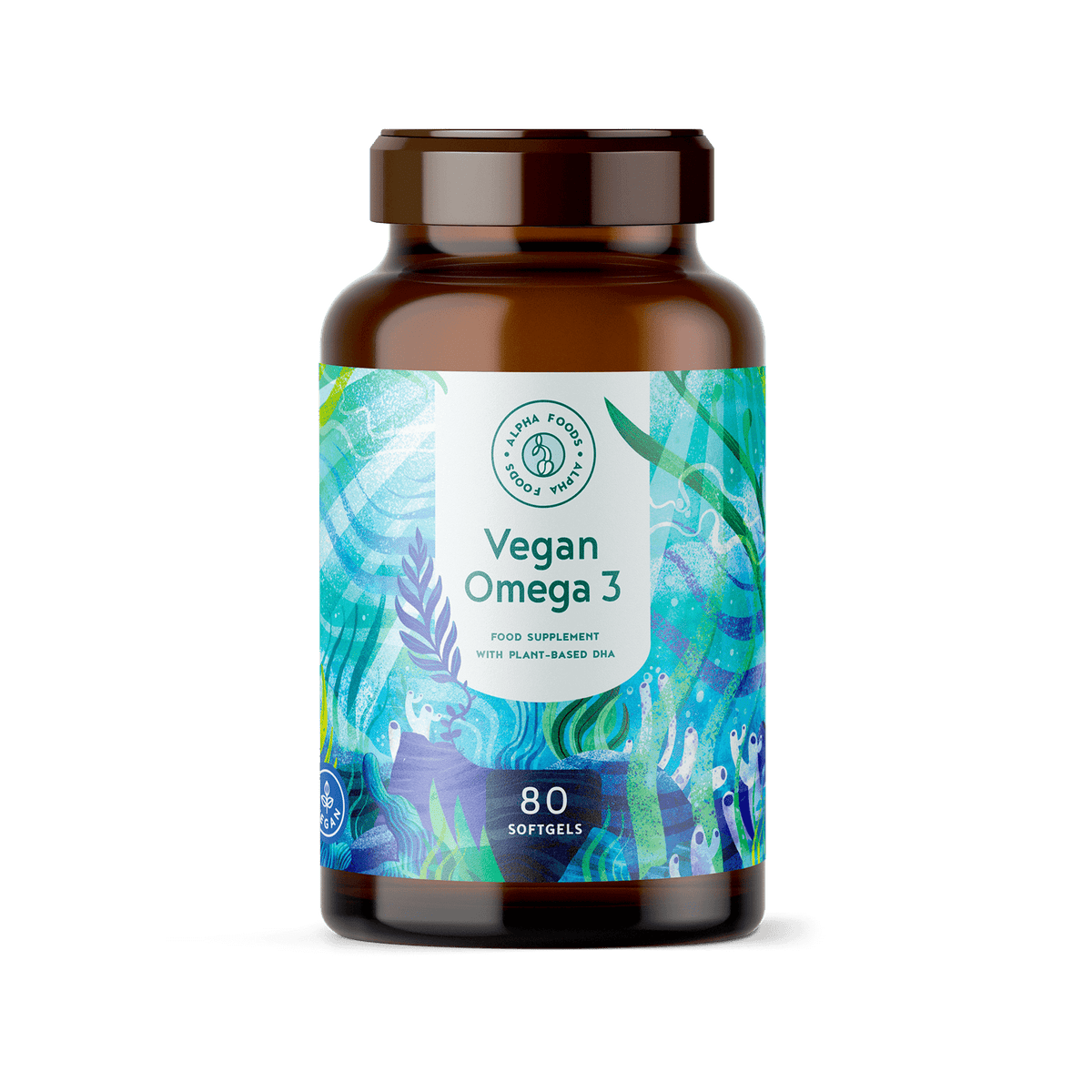 Try risk-free
Vegan Omega 3 from algae oils. With DHA fatty acids.
Add to cart
Every order comes with our 100% satisfaction guarantee
You either love your Alpha Foods or we offer a full refund.
What fits together?
These Alpha Foods might also be interesting for you: