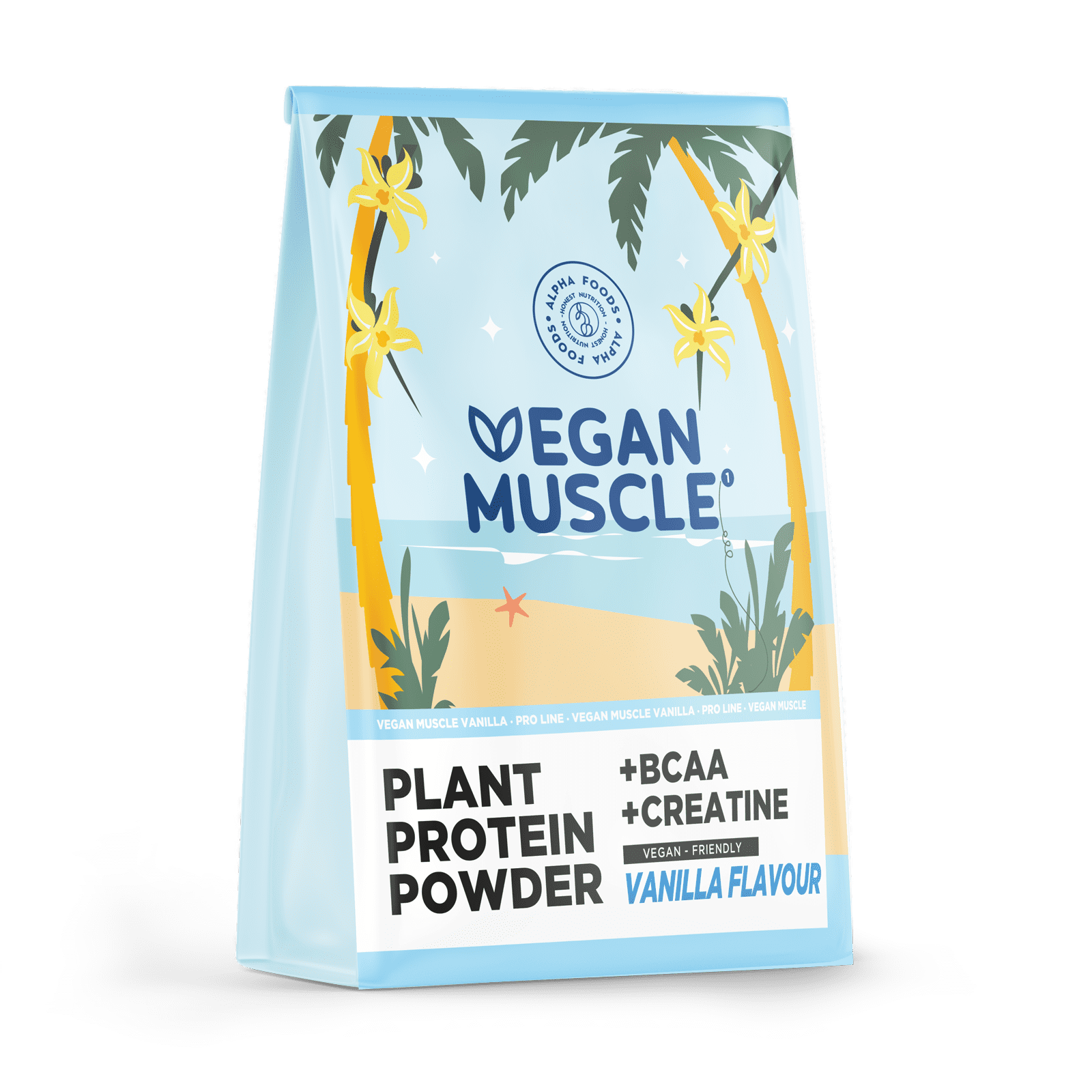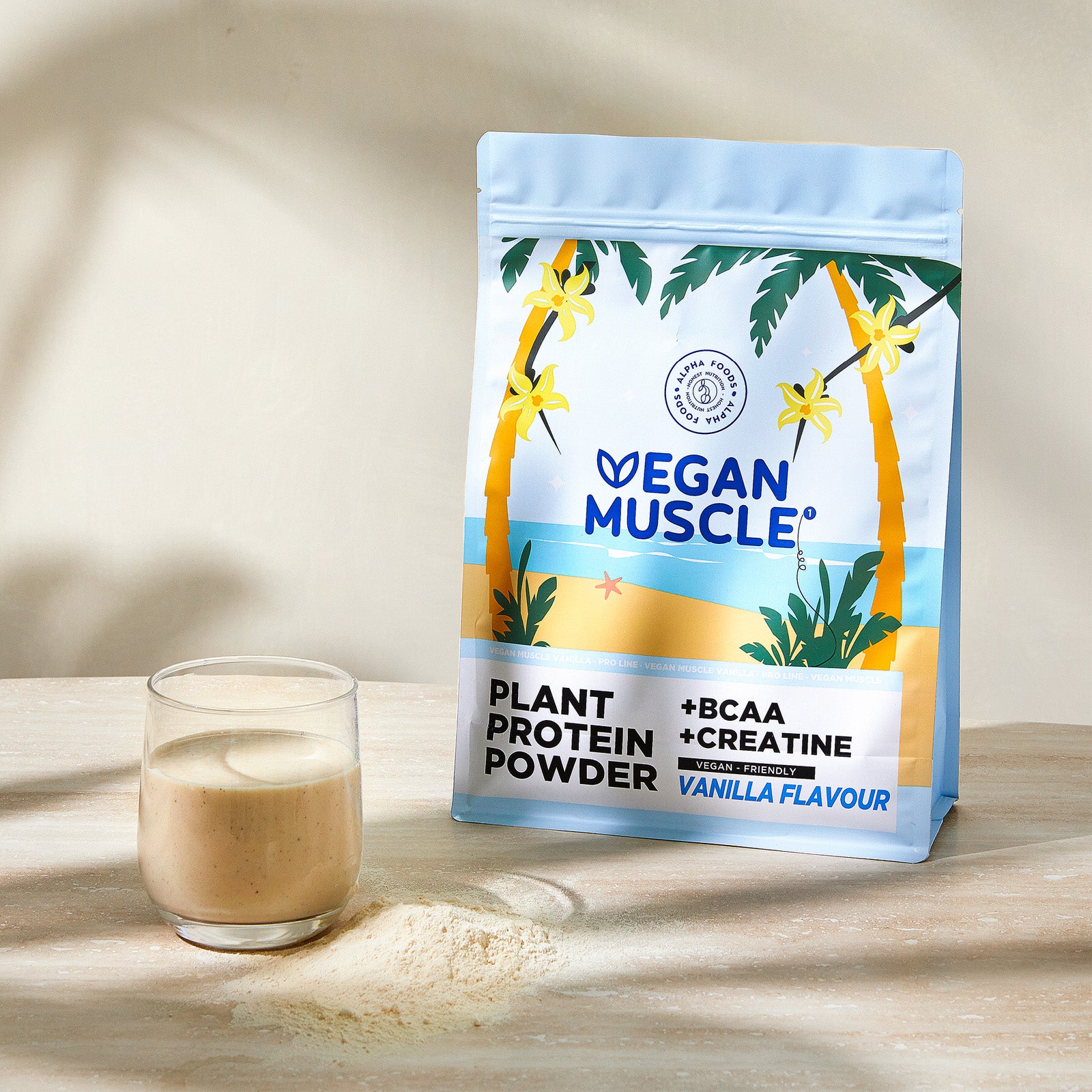 Vegan Muscle - Creatine & BCAA Protein - Vanilla Flavour
Protein rich powder with plant proteins, BCAAs, Creatine and sweeteners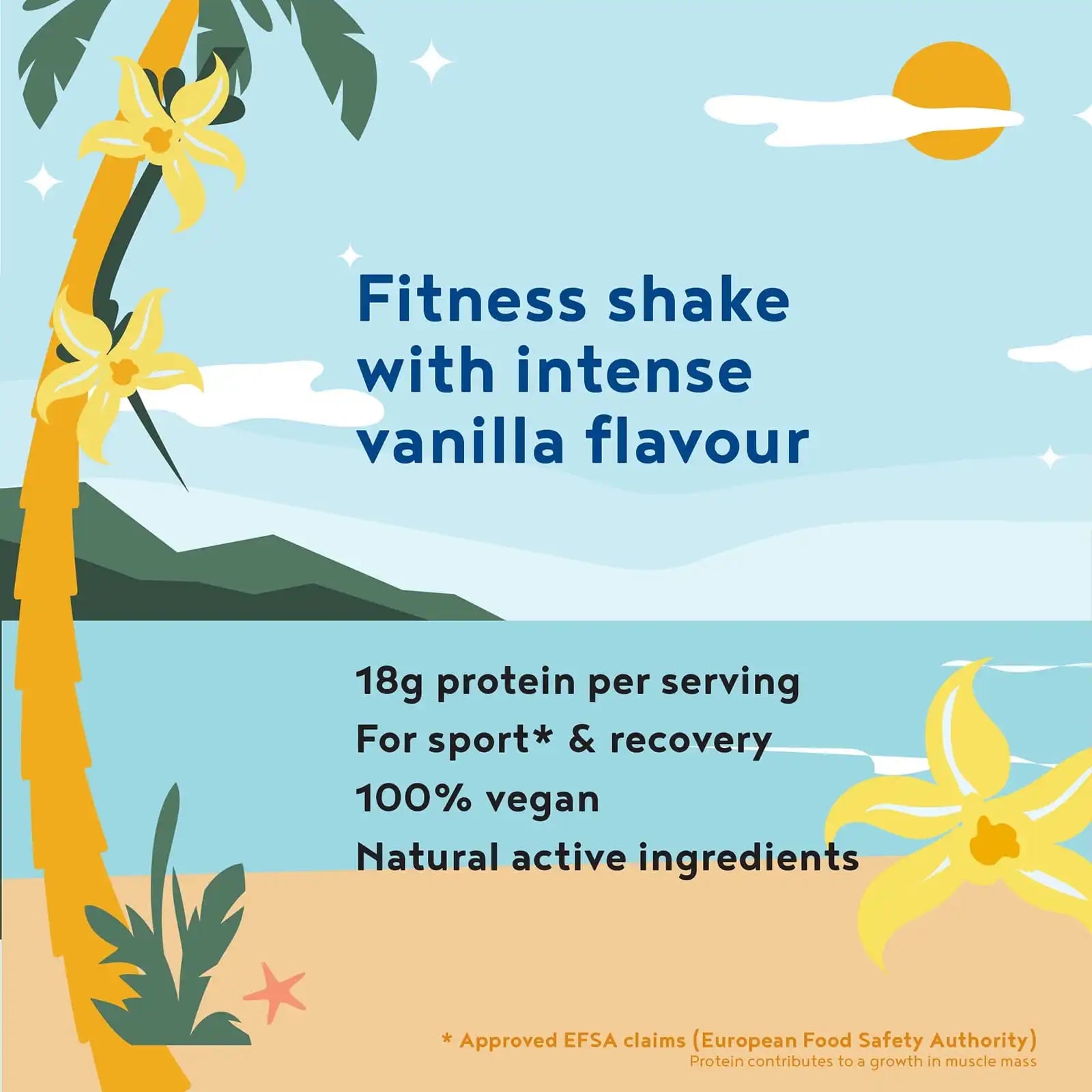 Gluten free
Soy free
Vegan
Plant-based protein
Alpha Foods have always been based on pure vegan protein sources from sprouted seeds and beans, which are naturally rich in nutrients but virtually free of typical anti-nutrients such as lectins or phytic acid.
Sprouted pumpkin seed protein
Sprouted sunflower seed protein
Vegan Muscle Boost
Proteins from sprouted seeds such as peas, rice and pumpkin seeds have been additionally enriched with the BCAAs (branched chain amino acids) L-leucine, L-isoleucine, L-valine and L-glutamine. BCAAs are essential protein building blocks that the body cannot produce itself, but which are essential for building muscle.
Ginseng (containing saponins)
Natural Taste
Flavours that have always been formulated and composed by true masters of their craft provide a natural, rounded and unbeatably delicious taste experience for which Alpha Foods proteins are widely known.
Steviol glycosides from Stevia
Discover recipe ideas and background knowledge about

Vegan Muscle - Creatine & BCAA Protein - Vanilla Flavour
More information about this product
Preparation
Consume one serving daily, consisting of one scoop (30g) of Vegan Muscle powder and 300ml of water
Ingredients
Show ingredients +
Ingredients (per 30g powder): Pea protein powder (18g), rice proteinconcentrate (5g), flavouring, creatine monohydrate (*), thickener (guargum), L-leucine (800mg), L-isoleucine (600mg), L-valine (600mg),L-glutamine (200mg), ginseng root extract (200mg), sunflower lecithins,flavouring, hemp seed protein powder (100mg), sunflower seedprotein powder (100mg), pumpkin seed protein powder (100mg),creatine hydrochloride (*), sweetener (steviol glycosides).(*) 1050mg creatine per daily intake of 30
Nutritional information
20 portions per container
Serving size
1 scoop (30g)
of which saturated fatty acids
0,5 g
Pea protein 18 g
Rice protein 5 g
Creatine 1050 mg
L-Leucine 800 mg
L-Isoleucine 600 mg
L-Valine 600 mg
L-Glutamine 200 mg
Ginseng 200 mg
Hemp seed protein 100 mg
Sunflower seed protein 100 mg
Pumpkin seed protein 100 mg
Cysteine 413 mg
Glutamic acid 3.033 mg
Glycine 729 mg
Proline 652 mg
Serine 1.275 mg
FAQ
Questions & answers
FAQ
Questions & answers
What distinguishes "Vegan Muscle" from "Vegan Protein"?
+
-
"Vegan Muscle" is our vegan protein range especially for recreational athletes and professional athletes. Here we combine our proven plant-based proteins with additional BCAAs and creatine.
BCAAs ("Branched Chain Amino Acids") are the essential amino acids L-leucine, L-isoleucine and L-valine. They are important for the energy balance of the muscles. Because they are converted directly in the muscle cells to the amino acids glutamine and alanine, BCAAs help to improve the oxygen and nitrogen balance in the muscles. This is especially helpful if you exercise a lot.
Creatine is a natural substance that the body can produce itself in certain quantities. Creatine does not have a direct muscle-building effect, but improves training success by increasing physical performance in successive bursts of short-term, high intensity exercise. This effect is only obtained with a daily intake of 3 g of creatine.The effect of creatine therefore concerns the energy supply of the muscle and allows a greater workload during short-term, high intense training, which increases the training stimulus Ginseng, which is also included in Vegan Muscle Chocolate, increases physical performance.
Is "Vegan Muscle" also suitable for recreational athletes?
+
-
Vegan Muscle is a high-quality, plant-based option for professional athletes as well as recreational athletes and all those who want to eat healthy and plant-based It is very well suited to support muscle building because it contains protein which contributes to a growth in muscle mass. Additionally the added creatine will improve training success by increasing physical performance in successive bursts of short-term, high intensity exercise. This makes the Vegan muscle proteins an ideal partner for recreational athletes.
Are there any safety instructions?
+
-
Food supplements should not be used as a substitute for a varied and balanced diet and healthy lifestyle. Do not exceed the stated recommended daily dose. The product is intended for adults only. Do not use during pregnancy or breastfeeding. Store in a cool, dry and dark place and out of reach of young children.

600g ℮
Do you have more questions?
Exchange ideas with the Alpha Foods community
Facebook Group
1 Vegan Muscle Plant Protein Powder Vanilla Flavour contains protein which contributes to a growth in muscle mass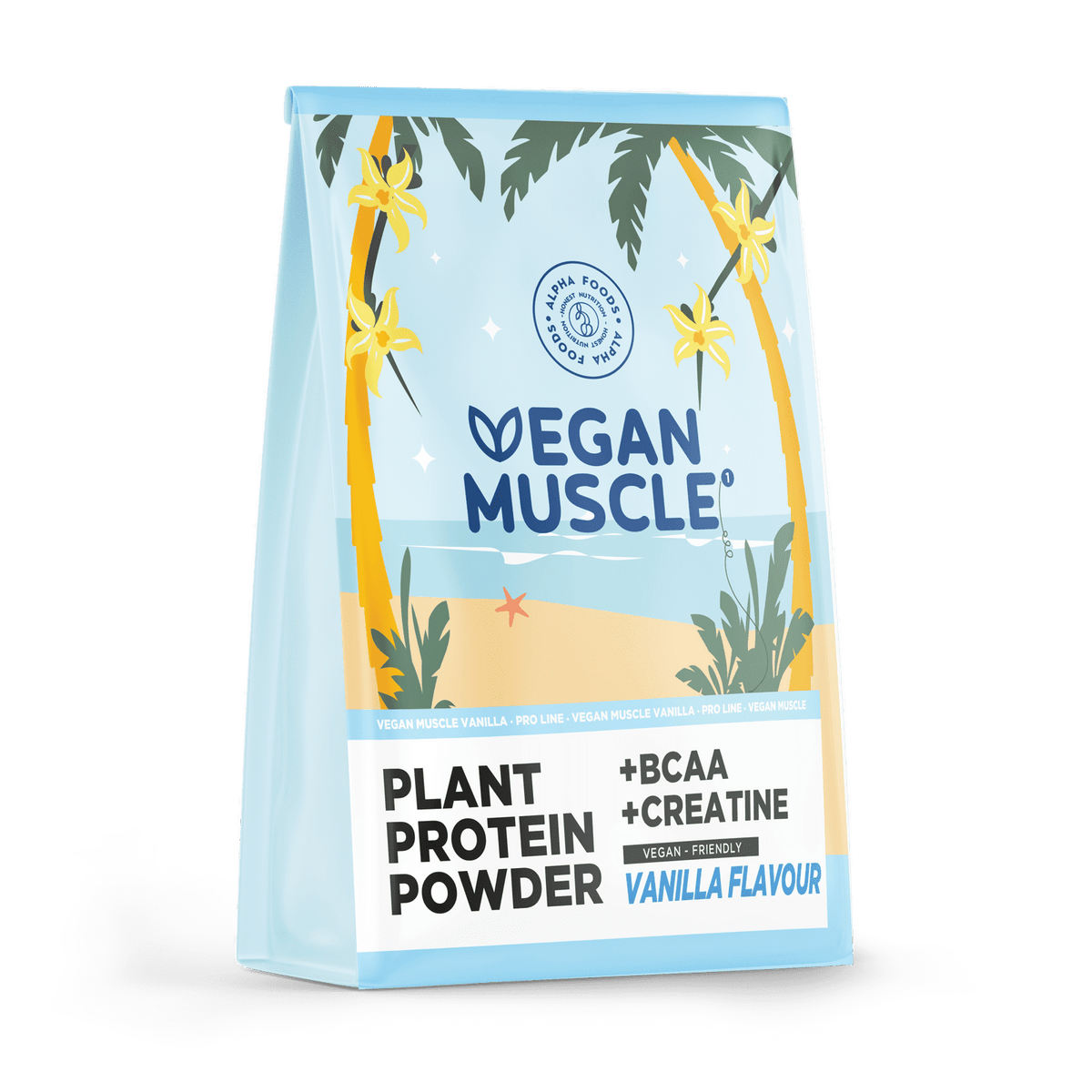 Try risk-free
Protein rich powder with plant proteins, BCAAs, Creatine and sweeteners
Add to cart
Every order comes with our 100% satisfaction guarantee
You either love your Alpha Foods or we offer a full refund.