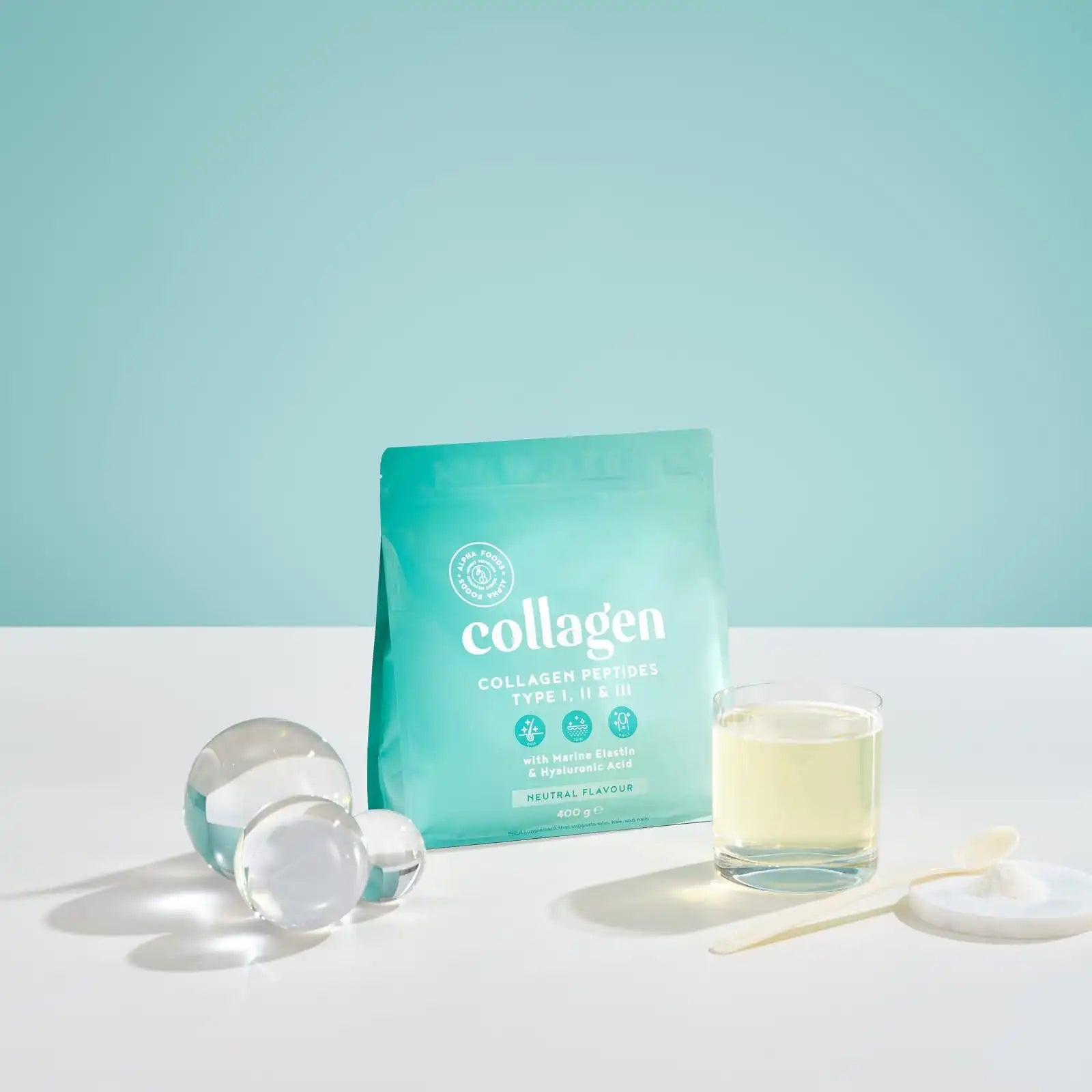 Bioactive collagen peptides with elastin peptides and hyaluronic acid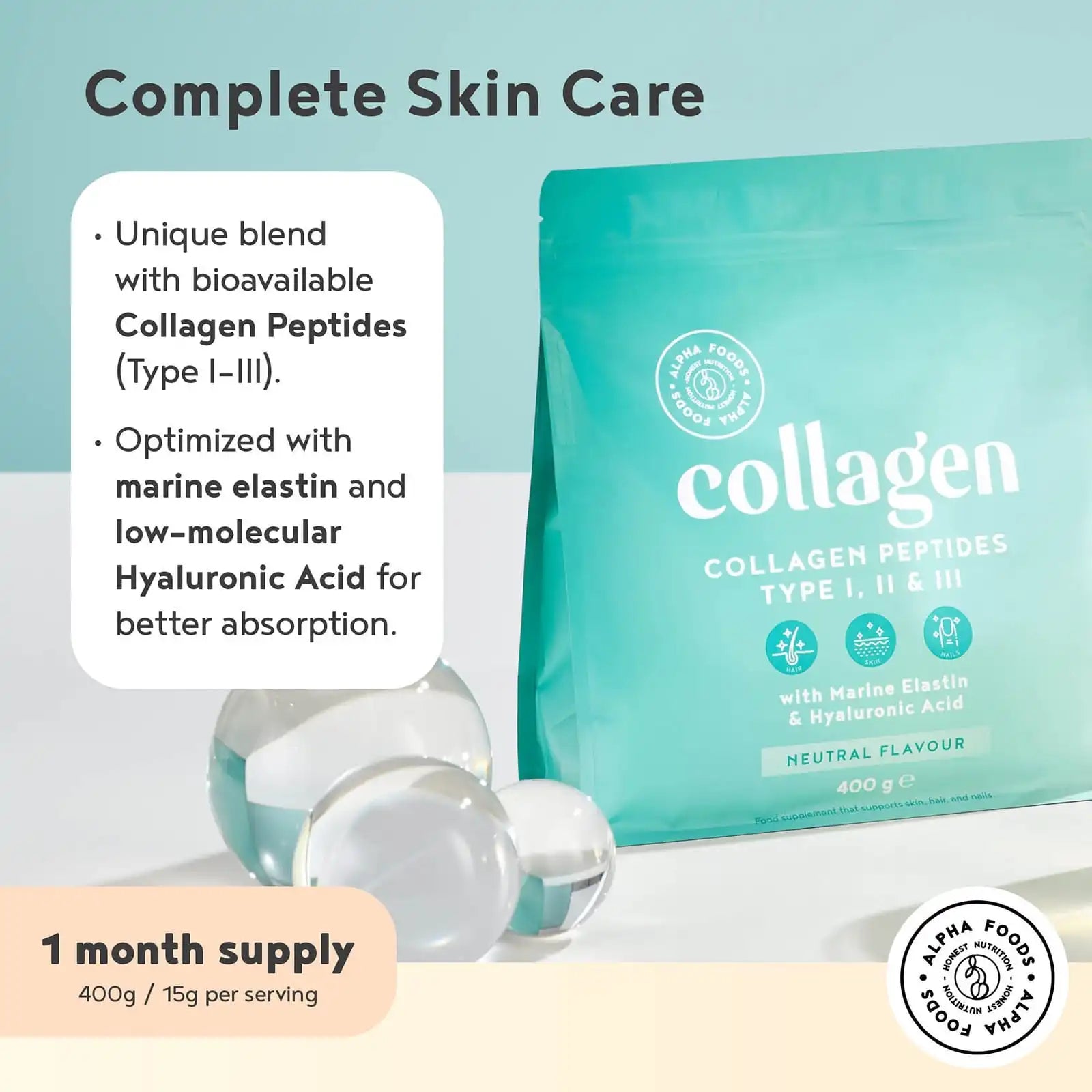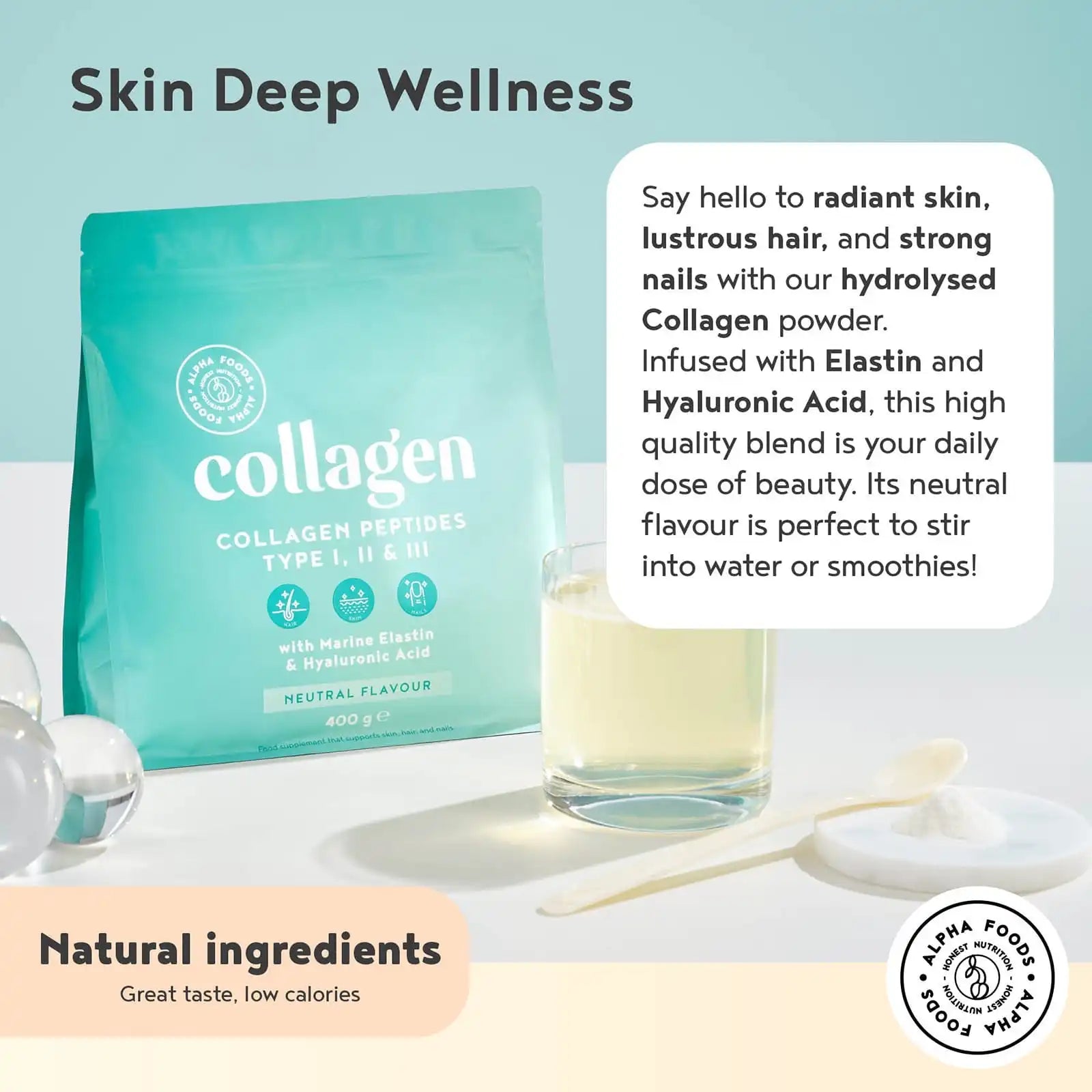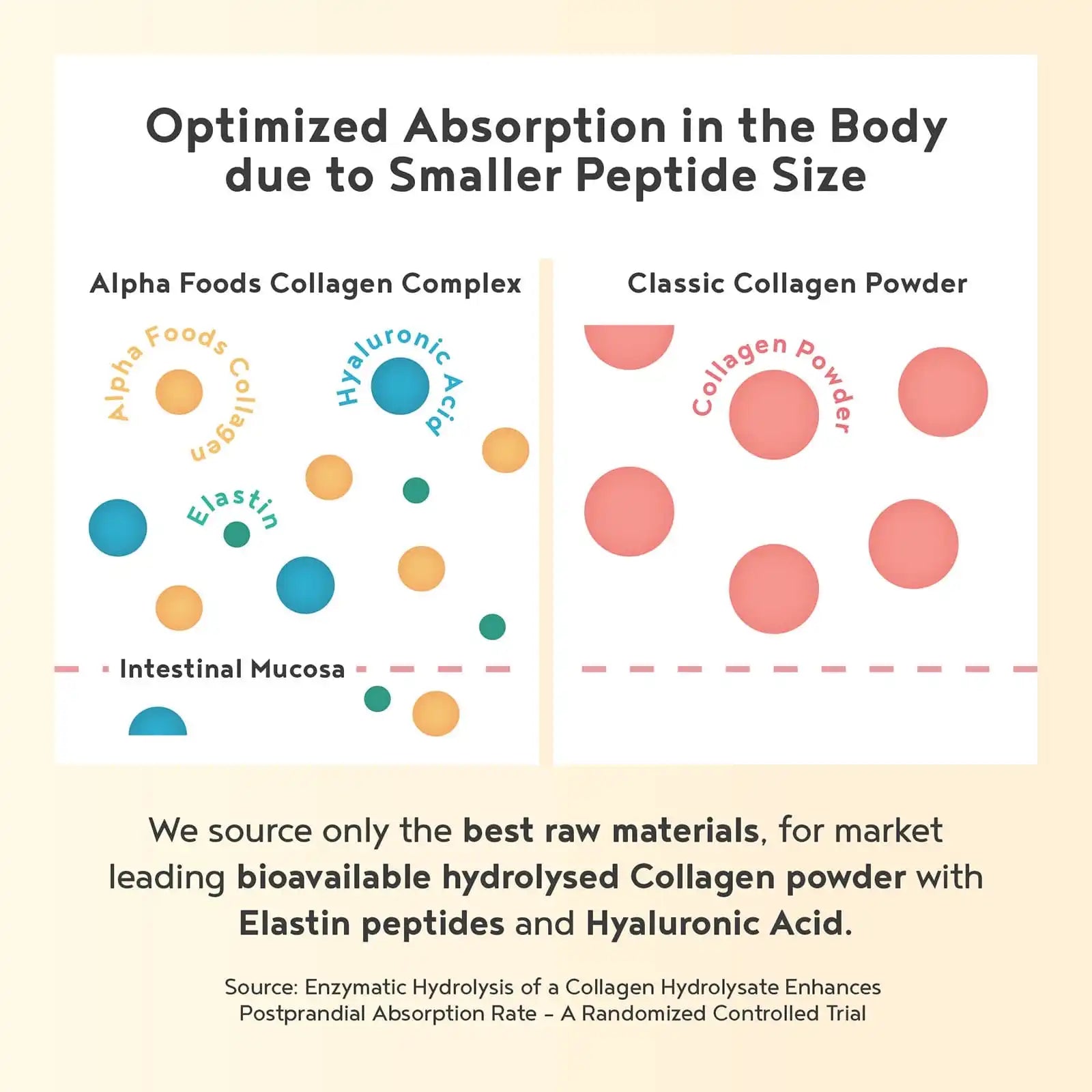 Gluten free
Soy free
Unsweetened
Structural proteins
Collagen and elastin are essential structural proteins: collagen therefore helps to give the skin firmness and foundation, while elastin helps to give the skin suppleness and elasticity. Collagen thus helps to give the skin firmness and foundation, while elastin helps to give the skin suppleness and elasticity. Supplemented with low molecular weight hyaluronic acid (200 kDa) to bind moisture in all skin layers.
Hyaluronic acid (200 kDa)
More information about this product
Preparation
Mix 1 scoop (15 g powder) once daily with 200 ml of water or liquid of your choice, or use the heat-resistant collagen when cooking or baking.
Ingredients
Show ingredients +
Collagen hydrolysate (from bovine), elastin hydrolysate (from fish), sodium hyaluronate (hyaluronic acid, 200 kDa).
Nutritional information
27 portions per container
Serving size
1 scoop (15g)
of which saturated fatty acids
< 0,1 g
Collagen 11,18 g
Elastin 3,3 g
FAQ
Questions & answers
FAQ
Questions & answers
What distinguishes Alpha Foods Collagen from conventional collagen powders?
+
-
Like all Alpha Foods, we only use (branded) raw materials tested for potency and purity in our collagens, such as the bioactive collagen peptides from Gelita. In addition, we deliberately combine our collagen with the synergistic structural protein elastin and the active ingredient hyaluronic acid.

Collagen promotes the preservation of the skin's firmness, elastin allows the skin to stretch - for example when you contort your face or even just laugh - and still return directly to its original shape afterwards, so no wrinkles remain. So, collagen is the framework that gives the skin strength and foundation, while elastin keeps the skin in the shape that collagen gives it. Elastin gives the skin suppleness and elasticity. Hyaluronic acid, in turn, helps the skin - and tissues throughout the body, as well as joints and cartilage - retain moisture, and in this way keep it plump and elastic.
Is the collagen vegan or plant-based?
+
-
NO - as the only Alpha Foods, the classic collagens (with the exception of Vegan Collagen Formation Support) are not vegan. Structural proteins such as collagen and elastin are found in nature only in humans as well as in the animal kingdom, plants do not have structural proteins such as collagen.
What type of hyaluronic acid is used?
+
-
We use relatively low-molecular hyaluronic acid of about 200 kDa in collagen. Even lower values would increase bioavailability, but may trigger undesirable side effects. Higher-molecular-weight hyaluronic acid, on the other hand, cannot be utilized orally and - although this is not always the case - should primarily be used in cosmetics.
Which active ingredients are included and in what quantity?
+
-
In 15 grams of powder (1 serving) are the following active ingredients: Collagen (11.18 g), Elastin (3.3 g), Hyaluronic acid (0.53 g)
What is the quantity ratio between the individual components?
+
-
Of all superfood protein sources, all are contained in almost equal amounts. Only the proportion of pea protein is slightly higher.
Are there any safety instructions?
+
-
Food supplements should not be used as a substitute for a varied and balanced diet and healthy lifestyle. Do not exceed the stated recommended daily dose. Store in a cool, dry and dark place and out of reach of children.

450g ℮
Do you have more questions?
Exchange ideas with the Alpha Foods community
Facebook Group
Try risk-free
Bioactive collagen peptides with elastin peptides and hyaluronic acid
Add to cart
Every order comes with our 100% satisfaction guarantee
You either love your Alpha Foods or we offer a full refund.
What fits together?
These Alpha Foods might also be interesting for you: