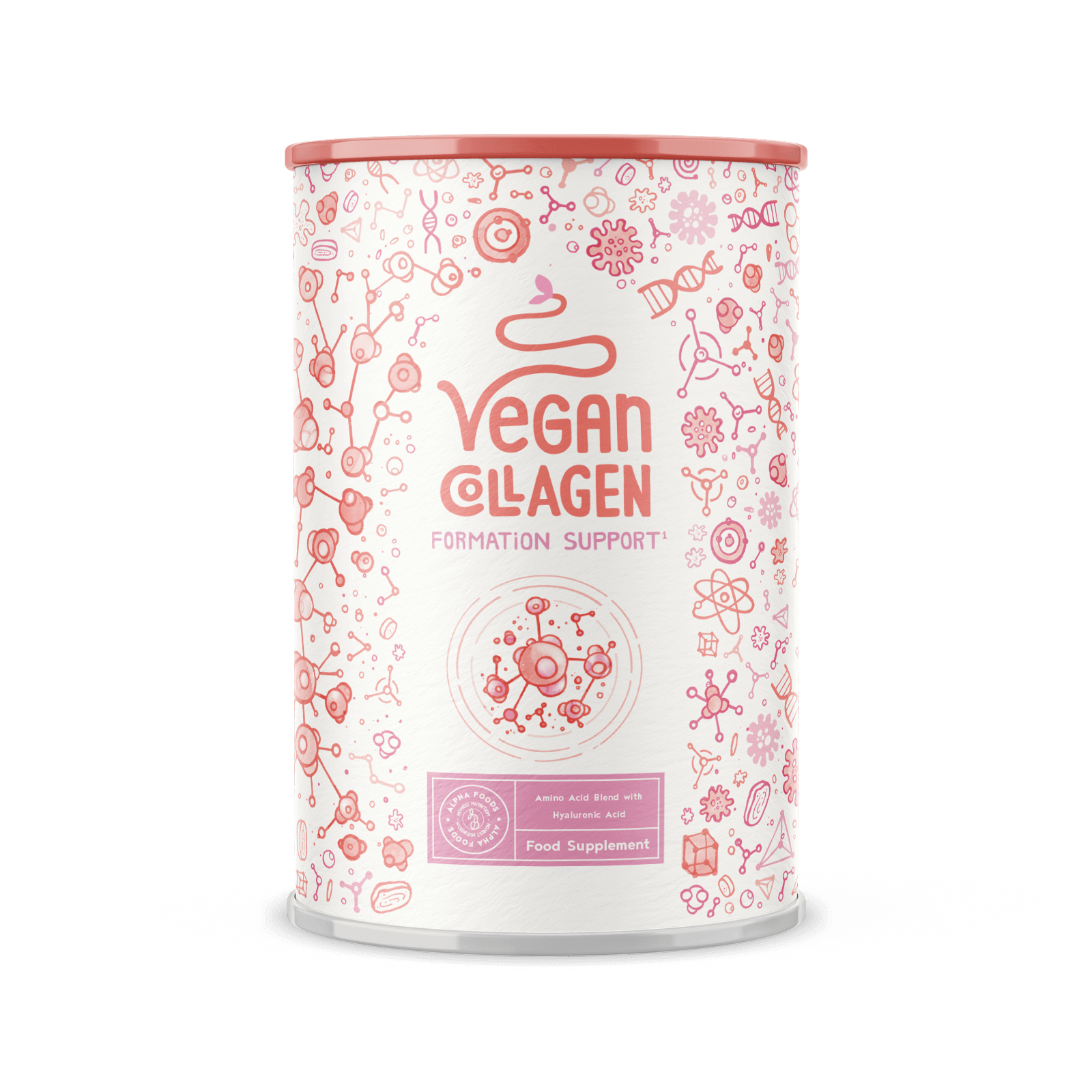 Vegan Collagen Formation Support
The plant-derived alternative to collagen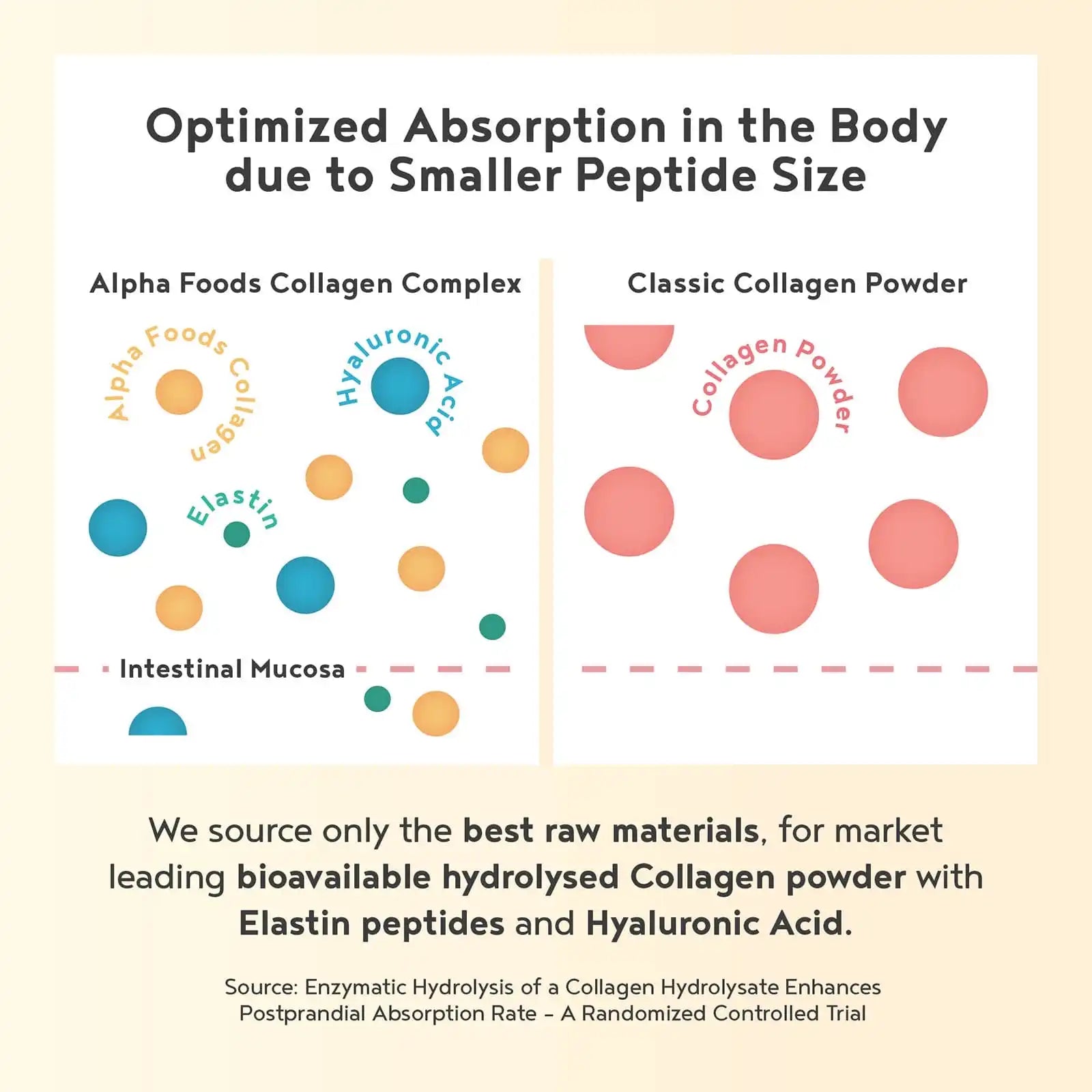 Gluten free
Soy free
Unsweetened
Vegan
Amino acids
Conventional collagen always comes from bovine or porcine tissue. Alpha Foods Vegan Collagen Formation Support, on the other hand, is derived from plant starch and molasses by replicating the biochemical amino sequence of collagen powder.
Amino acids from plant-based starch and molasses
Active ingredients
Vegan Collagen Formation Support was supplemented only with highly pure silicea from bamboo shoots and low-molecular (200 kDa), vegan and orally optimally bioavailable hyaluronic acid.
More information about this product
Preparation
Mix two scoops (15 g powder) once daily with 200 ml of water
Ingredients
Show ingredients +
Glycine, L-alanine, camu camu fruit extract, inulin, L-glutamine, L-hydroxyproline, L-arginine, D-aspartic acid, L-serine, hyaluronic acid, L-lysine hydrochloride, L-leucine, L-valine, L-threonine, bamboo extract, L-phenylalanine, L-isoleucine
Nutritional information
26 portions per container
serving size
2 scoops (15g)
of which saturated fatty acids
< 0,1 g
Collagen 10.58 g
Elastin 3.3 g
FAQ
Questions & answers
FAQ
Questions & answers
What distinguishes Vegan Collagen Formation Support from conventional collagen powder?
+
-
In one sentence: Not very much. Vegan Collagen Formation Support contains exactly the amino sequence for which collagen is so valued by millions of people worldwide. In addition, Vegan Collagen Formation Support contains only three synergistic active components: vitamin C (from camu camu berries), low-molecular hyaluronic acid (approx. 200 kDa) and silicea from bamboo. Other additives or adjuvants - including sweeteners or flavours - are not included.
What does Vegan Collagen taste like?
+
-
Unlike conventional collagen powder, Vegan Collagen Formation Support does not contain any remnants from the hydrolysis process of the bovine bones that you always consume and where the natural aftertaste that animal collagen always inevitably has comes from. Conversely, this means that Vegan Collagen Formation Support, unlike its animal counterpart, is almost completely tasteless and can therefore be used in a variety of ways.
How do I use Vegan Collagen Formation Support?
+
-
You can use Vegan Collagen Formation Support in many ways: mixed with water is always an option. However, we find the powder better dissolved in a smoothie, a protein shake, in coffee or juice or in one of your Alpha Foods elixirs. It is largely heat-resistant and can therefore also be used in cooking and baking.
How are the raw materials of Vegan Collagen Formation Support obtained?
+
-
All the core ingredients of Vegan Collagen Formation Support, such as glycine and hydroxyproline, are obtained from hydrolysed vegetable starch or molasses through a modern and natural fermentation process.
How would you best describe the Vegan Collagen Formation Support?
+
-
Food supplement with amino acids, hyaluronic acid and plant extracts - neutral taste.
Are there any safety instructions?
+
-
Food supplements are not a substitute for a balanced and varied diet. Please always store in a dry, cool place, away from light and out of the reach of children. Do not exceed the recommended daily intake.

400g ℮
Do you have more questions?
Exchange ideas with the Alpha Foods community
Facebook Group
1 Contains vitamin C, which contributes to normal collagen formation for normal function of skin, bones, teeth, blood vessels, cartilage and gums.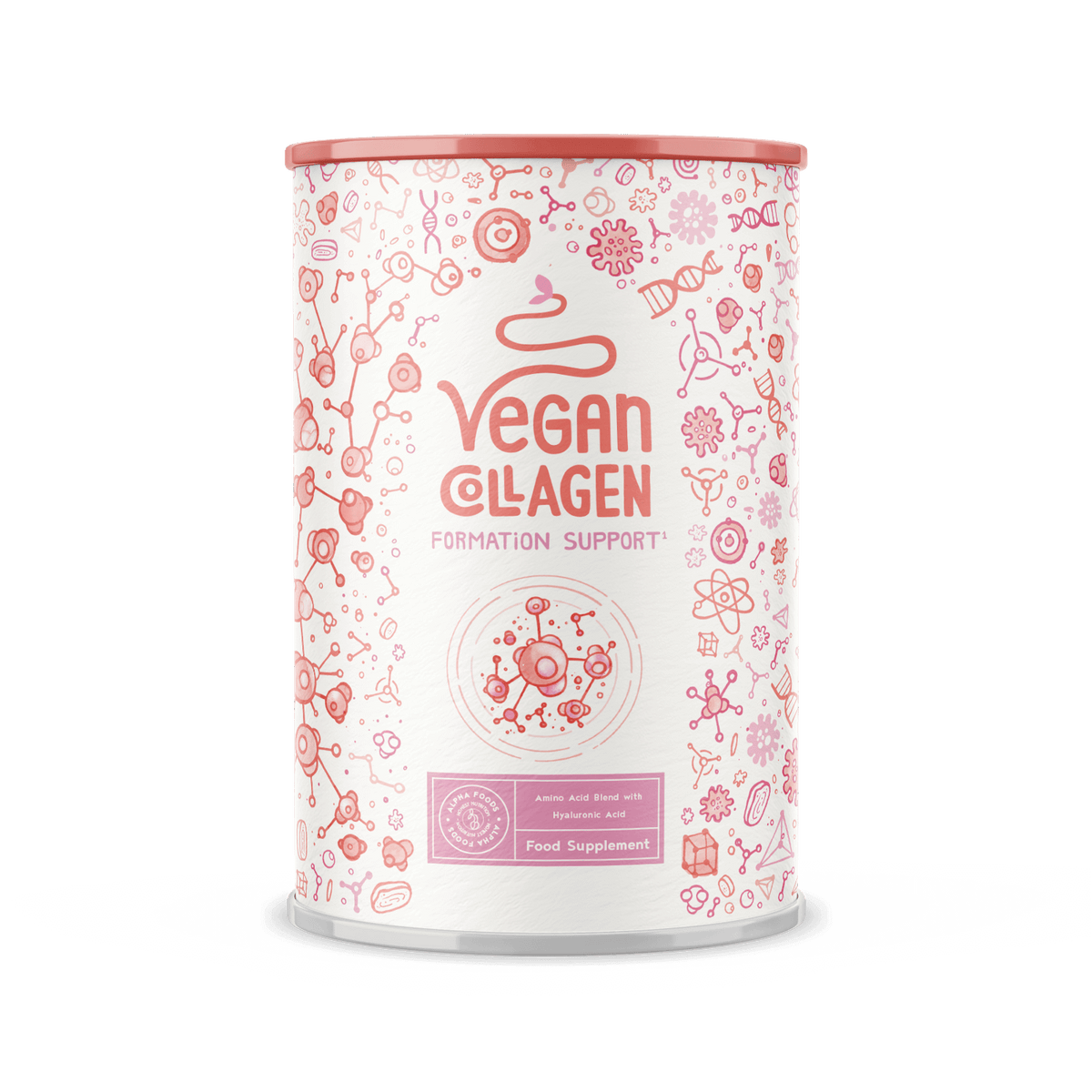 Try risk-free
The plant-derived alternative to collagen
Add to cart
Every order comes with our 100% satisfaction guarantee
You either love your Alpha Foods or we offer a full refund.
What fits together?
These Alpha Foods might also be interesting for you: