Curcuma Collagen Smoothie with benefits for skin and hair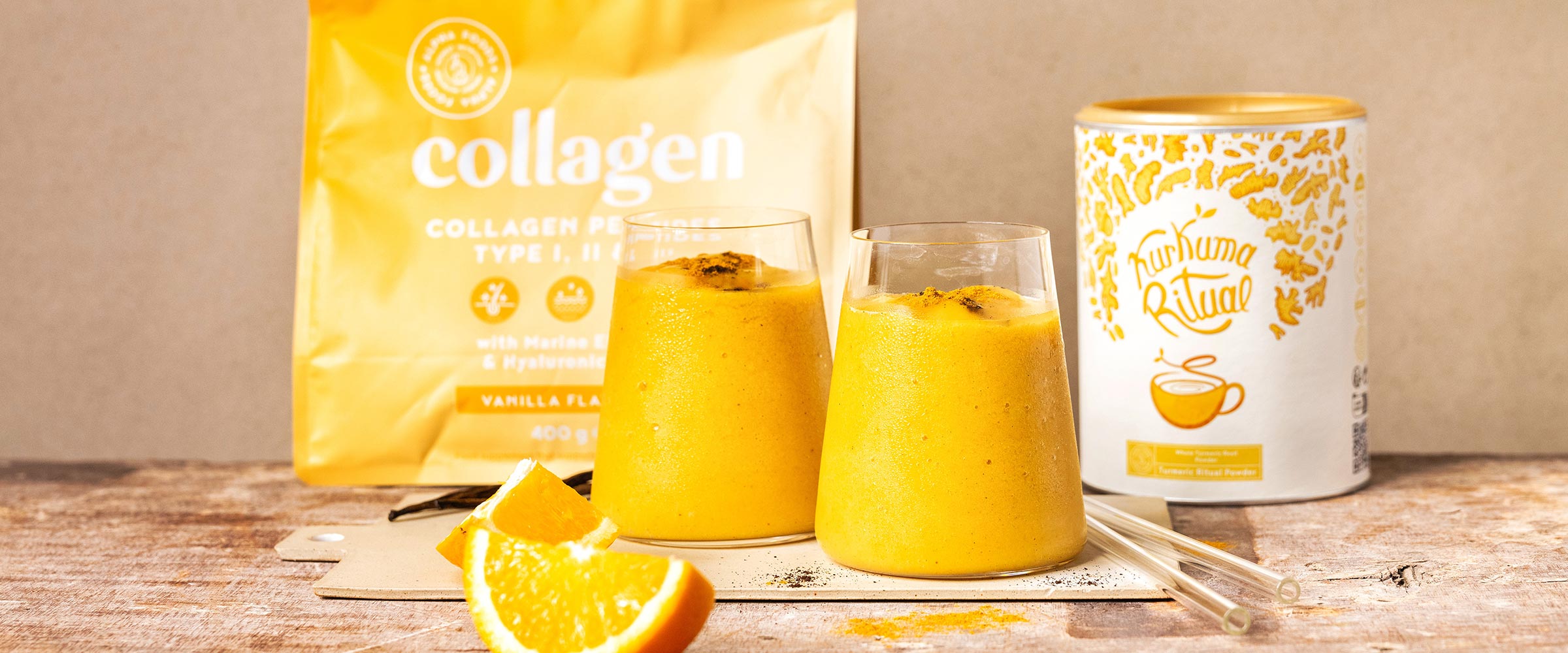 Curcuma Collagen Smoothie with benefits for skin and hair
---
This delicious turmeric collagen smoothie combines the benefits of two highly regarded nutrients: Turmeric, also known as the "Golden Root," has been appreciated for centuries for its potentially positive effects on our well-being. Collagen, on the other hand, plays a crucial role in the health of our skin, hair, and nails. This combination not only gives the smoothie its enticing golden color but also provides a gentle way to reap the potential benefits of both ingredients.
For the recipe, we use two of our popular Alpha Foods products: Collagen Vanilla is an effective collagen powder with hyaluronic acid and elastin, containing all essential types of collagen in balanced amounts. These active ingredients complement each other for optimal results. Kurkuma-Ritual is known for its preparation as Golden Milk (turmeric latte) but can also be perfectly used for blending into smoothies and other beverages to enrich them with additional nutrient value. The highly pure turmeric extract in the Ritual powder contains a whopping 95% potent curcuminoids, activated by their combination with piperine from black pepper. Ceylon cinnamon and the finest cocoa give the Kurkuma-Ritual a smoother note, providing this turmeric collagen smoothie recipe with a particularly delicious seasoning. ✨🍹💫
Preparation
Peel and chop the ginger. Squeeze an orange to obtain fresh orange juice. Alternatively, we recommend using organic orange juice.
Place all the ingredients in a blender and blend until a creamy smoothie is formed.
Pour the mixture into glasses and enjoy!
Stefanie Schulz
---
Time to prepare
3-5 minutes
---
---
---
Ingredients
1 banana
60 g frozen mango or pineapple
1 piece of fresh ginger
juice of 1/2 orange
1 scoop Kurkuma Ritual
1 scoop Collagen Vanilla
180 ml coconut water
---
More about health and wellbeing
Our latest articles: